Waterproofing Chemicals Market Size Analysis
According to a research survey conducted by ChemView Consulting, in 2022, the Global Waterproofing Chemicals Market was worth US$ 34,169.0 Mn and is expected to grow at a CAGR of 7.5 % over the forecast period. The market is expected to hit US$ 70,423.4 Mn by 2032 end. From 2017–2021, when the market's CAGR was 6.4%, the market underwent significant growth.
The waterproofing chemicals market is witnessing significant growth with increased demand for safety and security in buildings worldwide. The use of waterproofing chemicals has been growing at a rapid rate across all sectors. This is due to increasing urbanization, industrialization, and technological advancement, which all contribute to this growth. As per expenditure estimates, most of the capital investment is being made by governments worldwide.
Market Dynamic
THE GROWTH IN THE CONSTRUCTION INDUSTRY FUELS THE MARKET
The increasing focus on infrastructure development worldwide drives the demand for Waterproofing Chemicals. The key drivers of the global waterproofing chemicals market are the rising demand for innovative solutions, infrastructure development, and upgrading, increasing focus on corrosion resistance, raising awareness of environmental issues, and government initiatives in this regard. Furthermore, increased urbanization has increased the need for reliable infrastructural solutions worldwide.
ENVIRONMENTAL CONCERNS HAMPER THE MARKET GROWTH
The wide use of waterproofing chemicals or membranes threatens human health and the environment. Because these chemicals are used in spray form, they can be harmful to workers as well as users around. These fluorinated compounds may enter the respiratory systems and cause problems like pneumonitis and lung toxicity. Other issues like bronchitis, nasal irritation, and throat irritation might arise from these chemicals.
GOVERNMENT INTERVENTION CREATES NEW OPPORTUNITIES
There is an increasing demand for waterproofing chemicals in Cement-based structures as it imparts longer life to the system. Moreover, regulatory authorities aim to set up guidelines to curb the rise in pollution levels and strive to create a model that incentivizes energy-efficient and green buildings.
Such initiatives are expected to generate a demand for waterproofing chemicals. Initiatives taken by governments of emerging nations to provide basic infrastructure facilities, such as concrete-based homes, access to proper roads, and better irrigation network, are expected to boost the infrastructure and industrial sector hence creating an opportunity for waterproofing chemicals.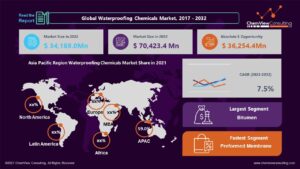 Market Segments Covered in Report
By Product Type:
Elastomers
Bitumen
Polyvinyl Chloride
Thermoplastic Polyolefin
Ethylene propylene diene monomer
Polytetrafluoroethylene
Others
By Technology:
Preformed Membrane
Coatings & Liquid Applied Membrane Systems
Integral Systems
Others
By Application:
Roofing & Walls
Floors & Basements
Bridge & Highways
Waste & Water management
Tunnel & Landfills
Others
By Region and Country:
North America (U.S., Canada)
Latin America (Brazil, Mexico, Rest of Latin America)
Europe (Germany, Italy, France, UK, Spain, Netherlands, Norway, Russia, Rest of Europe)
Asia-Pacific (China, Japan, South Korea, India, Indonesia, Thailand, Vietnam, Australia & New Zealand, Rest of Asia-Pacific)
Middle East (Saudi Arabia, Turkey, UAE, Rest of Middle East)
Africa (South Africa, Nigeria, Egypt, Rest of Africa)
Segment-Wise Analysis
Why is Bitumen waterproofing expected to dominate the market growth during the forecast period?
The bitumen waterproofing chemicals market is expected to witness lucrative growth in the coming years because of its wide applications across the construction segment, which helps in laying down a bituminous waterproof membrane over the roof structures. Demand is also driven by extensive use as a mixture of organic liquids that provides waterproofing and highly sticky characteristics will boost the market demand shortly. On the other hand, the bitumen material sector is expected to dominate the market growth during the forecast period.
Why is the Roofing segment predicted to dominate the market?
Roofing is the largest application segment and is expected to continue its dominance over the forecast period because of increased government expenditure on infrastructure development. Rapid urbanization, combined With the expanding middle-class population's disposable income, the construction industry is projected to experience market expansion. Increasing customer awareness of product quality is estimated to positively influence market expansion during the forecast timeframe.
Region-Wise Analysis
The regions analyzed for the market include North America, Europe, Latin America, Asia Pacific, Middle East, and Africa.
The Asia Pacific is anticipated to have a 59.0 % market share between 2022 and 2032. Throughout the entire forecast period, The construction industry is expected to witness rapid growth due to the increasing disposable income of the middle-class population and their growing interest in property investment. In India, the demand for chemical and petrochemical products is at an all-time high.
The increase in building and construction expenditure owing to regulatory inclination towards improvement in infrastructure coupled with the rise of disposable income among consumers in developing regions such as Asia has contributed to the overall market growth.
North America is anticipated to grow at a CAGR of 6.4% during the forecast period. This can be attributed to various factors such as healthy end-users, construction industry growth, and continuous renovations of the residential construction sector. Furthermore, it is also attributed to the presence of healthy commercial and industrial sectors in the region. The high product demand is accompanied by oversea concerns such as US restrictions on importing to Iran and Venezuela.
Competition Analysis
Major manufacturers are buying up other small-scale market participants to increase their yearly turnover and fortify their market position internationally. Market participants are concentrating on merger and expansion operations to meet the expanding demand and remain competitive.
A list of some of the key suppliers present in the market are:
BASF SE
DOW Chemical Company
Pidilite Industries Limited
Soprema Group
Carlisle Companies Inc.
Johns Manville Corporation
Drizoro S.A.U
Mapei S.P.A
Fosroc International Limited
RPM International INC.
SIKA AG
Wacker Chemie AG
Conpro Chemicals Private Limited
Bridgestone Corporation
Choksey Chemical
Global Waterproofing Chemicals Market 2022-2032: Report Coverage and Highlights
Assessment of the historical and current market size (2017-2021), market projections (2022-2032), and its contribution to the parent market
Key drivers, restraints, opportunities, and key emerging trends impacting market growth
Predictions on critical supply, demand, and technological trends and changes in consumer behavior
Value chain analysis (list of manufacturers, distributors, end-users, average profitability margins, etc.)
Segment-wise, country-wise, and region-wise market analysis
Competition mapping, market share analysis, key strategies adopted by top players, and competitive tactical intelligence
Key product innovations and regulatory framework
Covid-19 impact on the market and how to navigate
Strategic market analysis and recommendations on crucial winning strategies
| | |
| --- | --- |
| Research Scope | Details |
| Forecast period | 2022-2032 |
| Historical data available for | 2017-2021 |
| Market analysis | USD Million for Value and Tons for Volume, and CAGR from 2022 to 2032 |
| Key regions covered | North America, Latin America, Europe, Asia-Pacific, Middle East, and Africa |
| Key countries covered | US, Canada, Brazil, Mexico, Germany, Italy, France, UK, Spain, Netherlands, Norway, Russia, China, Japan, South Korea, India, Indonesia, Thailand, Vietnam, Australia & New Zealand, Saudi Arabia, Turkey, UAE, South Africa, Nigeria, Egypt |
| Key segments covered | By Product Type, Technology, Application, and Region |
| Customization scope | Available upon Request |
| Pricing and purchase options | Available upon Request |
Report Includes

Market Size Data

Global market size data, historical (2018 to 2022) and forecast (2023 to 2033), by each segment and region
Regional level market size data, historical (2018 to 2022) and forecast (2023 to 2033), by each segment and country
Country level market share data, historical (2018 to 2022) and forecast (2023 to 2033), by each segment
Market attractiveness analysis based on market share index and CAGR index for each of the segments and regions
Incremental dollar opportunity generated in the forecast period would be indicated
Key Takeaways, Recommendations, and key investment pockets for the relevant segments would be highlighted

Market Background

Macroeconomic factors that impact the market developments
Market dynamics (Drivers, Restraints, Opportunities) that positively or negatively influence market growth
Supply Side and Demand Side trends – trends witnessed from buyers and suppliers side
Production and Consumption Gap Analysis – analysis of gap between production and consumption in any geography to fulfil unmet demand
Trade analysis and analysis of key supply and demand hubs
Identification of hotbed opportunities existing in the market
Porter's and PEST analysis to understand the business environment of the geography
Regulatory scenario – Identification of key sector specific and trade regulations, and assessment of whether it helps or hinder market development & growth

Pricing Analysis

Regional-level product pricing analysis to set and benchmark your current or future product offerings across each product type
Historical and projected pricing trends of the product which helps in determining the product's price and/or services beneficial for companies product lifecycle
Cost teardown analysis and key factors impacting pricing

Value Chain Analysis

Country-wise list of raw material suppliers

Raw material price trends and buyers' sentiment
Overview of Intelligent Sourcing Technique
Raw material procurement requirements
Vendor selection criteria

Country-wise list of product manufacturers
Country-wise list of distributors/traders
Country-wise list of end-users

End-Users/Customers consumption mapping
Key End-Users/Customers client list

Country-wise list of other key channel partners
Average profitability margins
Regional value chain dynamics

Competition Analysis

Market shares and production capacities of key players
Tier structure analysis of market
Comprehensive competition dashboard representing the top 10-15 players in the market
Individual company profiles of top 15 to 20 manufacturers

Business Overview
Product Portfolio
Key Financials
Recent Developments
SWOT Analysis
Strategies
Country Coverage
North America: U.S., Canada
Latin America: Brazil, Mexico, Argentina, Central America, Rest of Latin America
Western Europe: Germany, Italy, France, UK, Spain, Poland, Romania, Rest of Western Europe
Eastern Europe: Russia & Belarus, Balkan Countries, Baltic Countries, Central Asia, Rest of Eastern Europe
Middle East & Africa: KSA, UAE, Turkey, Israel, Northern Africa, South Africa, Rest of Middle East & Africa
East Asia: China, Japan, South Korea
South Asia & Pacific: India, ASEAN, Australia & New Zealand, Rest of South Asia & Pacific
Why Choose CVC Market Research?;
Specialized market research company
Impeccable and deep industry expertise
Wide range of offerings
Robust research methodology and statistical models with least deviation
Extensive reports and full-service consulting
Expert panel sanctioned industry outlook
Growth dynamics for calculated investments
Tri-level quality guarantee
6 months unlimited post-sales support
Regular planned and contracted report updates
Frequently Asked Questions
In the forecast period between 2022 and 2032, the market is expected to grow at a CAGR of 7.5%.
Demand from various end-use industries, including transportation, building and construction, and manufacturing, is anticipated to drive growth.
Major global Waterproofing Chemicals Market players are BASF SE, DOW Chemical Company, Pidilite Industries Limited, Soprema Group, Carlisle Companies Inc., Johns Manville Corporation, Drizoro S.A.U, Mapei S.P.A, Fosroc International Limited, RPM International INC., SIKA AG, Wacker Chemie AG, Conpro Chemicals Private Limited, Bridgestone Corporation, and Choksey Chemical, among others.
Although the global market is expected to grow steadily during the forecast period, volatile raw material prices are estimated to hinder its growth.
The Asia Pacific region is expected to account for the largest market revenue share in the Global Waterproofing Chemicals market.