Thermoplastic Pipe Market Size Analysis
According to a research survey conducted by ChemView Consulting, in 2022, the Global Thermoplastic Pipe Market was worth US$ 2,700.0 Mn and is expected to grow at a CAGR of 4.5% over the forecast period. The market is expected to hit US$ 4,200.0 Mn by 2032 end.
The increasing application of thermoplastic composite pipes in offshore and onshore production activities and the growing adoption of thermoplastic pipes across the sectors like municipal corporations, mining, and dredging are some of the major factors driving the growth of the Global Thermoplastic Pipe Market.
Market Dynamic
THE HIGHLY EFFICIENT PROPERTIES OF THERMOPLASTIC PIPES FUEL THE MARKET
Due to their low cost and superior chemical resistance, thermoplastic pipes constructed of engineering thermoplastic grades like polyethylene (PE) and polyvinyl chloride (PVC) have been utilized widely. Due to their high cost, higher grades of thermoplastics, including polyether ether ketone (PEEK), are sometimes used in wirelines and seals. These pipes have high raw material and fabrication costs but also have strong abrasion resistance, low flammability, and decreased emission of smoke and harmful gases.
HIGH RAW MATERIAL COSTS AND THE NEED FOR A SPECIALIZED WORKFORCE HAMPER THE MARKET GROWTH
Fabricators of thermoplastic composite pipes for the oil and gas sector typically have to buy raw materials (polymer) directly from the producers to meet the operational needs of oil firms and the standards set by suppliers. Thermoplastic composite pipes must be modified depending on the end-use circumstances, such as pressure, temperature, and corrosion.
The alterations are often made to the polymer composition or the processing conditions, which can only be done if the pipe fabricator and the polymer producer work closely together. Due to this standardized restriction, it is challenging to manufacture composite pipes on a wide scale, raising the price of thermoplastic lines.
COVID-19 Impact
The COVID-19 pandemic outbreak has harmed the international economy since lockdowns have to be implemented by governments all around the world to stop the virus from spreading. The transportation of oil and gas was impeded as a result. The COVID-19 epidemic immediately affected the supply of thermoplastic pipes used to carry oil and gas to end users' sites by reducing the demand for crude oil. The epidemic has also disrupted the water treatment industry, which relies heavily on thermoplastic pipes.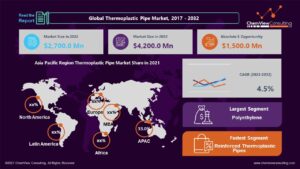 Market Segments Covered in Report
By Product:
Reinforced Thermoplastic Pipes (RTP)
Thermoplastic Composite Pipes (TCP)
By End-Use:
Oil & Gas
Water & Wastewater
Mining & Dredging
Utilities & Renewable
By Application:
By Polymer Type:
Polyethylene (PE)
Polypropylene (PP)
Polyvinylidene Fluoride (PVDF)
Polyvinyl Chloride (PVC)
By Region and Country:
North America (U.S., Canada)
Latin America (Brazil, Mexico, Rest of Latin America)
Europe (Germany, Italy, France, UK, Spain, Netherlands, Norway, Russia, Rest of Europe)
Asia-Pacific (China, Japan, South Korea, India, Indonesia, Thailand, Vietnam, Australia & New Zealand, Rest of Asia-Pacific)
Middle East (Saudi Arabia, Turkey, UAE, Rest of Middle East)
Africa (South Africa, Nigeria, Egypt, Rest of Africa)
Segment-Wise Analysis
What distinct qualities of reinforced thermoplastic pipes lead to market growth?
RTPs differ from TCPs in that they are employed in applications requiring lower temperature requirements and lower pressure ratings (up to 70 bar). RTPs are typically utilized on land and occasionally employed offshore in shallow water (less than 30 meters of depth). RTPs are increasingly being used in the water and wastewater treatment sector, which is projected to increase international demand.
Which segment of the polymer market is anticipated to have high utilization?
The cross-linked structure of polyethylene improves the material's tensile strength and temperature resistance. It makes it possible to specify the content for usage in harsher conditions at lower and higher temperatures. Polyethylene (PE), which is lightweight, flexible, and simple to weld, is anticipated to see increased demand in the thermoplastic pipe industry.
Region-Wise Analysis
The regions analyzed for the market include North America, Europe, Latin America, Asia Pacific, the Middle East, and Africa.
The highest market share of 33.0% for thermoplastic pipes now belongs to the Asia Pacific region. Urbanization and industrialization are the main causes of this area's increasing thermoplastic pipe sales.
The market for thermoplastic lines is expanding as a result of developing infrastructure, the creation of new cities, and rising mining activity. The need for thermoplastic pipes grows as mining operations are expanded in nations like China, India, and Australia.
Competition Analysis
The market for thermoplastic pipes is enormous, and the product has to expand uses across several sectors. As a result, manufacturers find the market to be a gold mine. Each major company has a different USP and marketing plan to introduce its goods to the market.
Some of the key developments that have taken place in the Thermoplastic Pipe Market include:
In Jul 2021, 100% of the FloPlast and Cork Plastics shares were purchased by Wienerberger. Both businesses' product lines are mostly comprised of drainage, roofline, and rainfall goods. As a result, it is anticipated that the purchase would assist Wienerberger in developing into a full-service provider of managed stormwater and greywater solutions for the residential market.
In December 2020, FGS Brasil Industria e Comércio (FGS), Cajamar (Brazil), a producer of polyethylene pipe systems, was purchased by GF Piping Systems, a part of Georg Fischer. The acquisition allowed GF Piping Systems to increase its market share in South America and Brazil.
A list of some of the key suppliers present in the market are:
Advanced Drainage Systems
TechnipFMC
NOV
Strohm
Baker Hughes Company
Wienerberger
Chevron Philips Chemical Company
Prysmian Group
Georg Fischer
Shawcor
IPEX
TEC
Saudi Arabian Amiantit
Simtech Process Systems
Uponor Corporation
Global Thermoplastic Pipe Market 2022-2032: Report Coverage and Highlights
Assessment of the historical and current market size (2017-2021), market projections (2022-2032), and its contribution to the parent market
Key drivers, restraints, opportunities, and key emerging trends impacting market growth
Predictions on critical supply, demand, and technological trends and changes in consumer behavior
Value chain analysis (list of manufacturers, distributors, end-users, average profitability margins, etc.)
Segment-wise, country-wise, and region-wise market analysis
Competition mapping, market share analysis, key strategies adopted by top players, and competitive tactical intelligence
Key product innovations and regulatory framework
Covid-19 impact on the market and how to navigate
Strategic market analysis and recommendations on crucial winning strategies
| | |
| --- | --- |
| Research Scope | Details |
| Forecast period | 2022-2032 |
| Historical data available for | 2017-2021 |
| Market analysis | USD Million for Value and Tons for Volume, and CAGR from 2022 to 2032 |
| Key regions covered | North America, Latin America, Europe, Asia-Pacific, Middle East, and Africa |
| Key countries covered | US, Canada, Brazil, Mexico, Germany, Italy, France, UK, Spain, Netherlands, Norway, Russia, China, Japan, South Korea, India, Indonesia, Thailand, Vietnam, Australia & New Zealand, Saudi Arabia, Turkey, UAE, South Africa, Nigeria, Egypt |
| Key segments covered | By Product, End-Use, Application, Polymer Type, and Region |
| Customization scope | Available upon Request |
| Pricing and purchase options | Available upon Request |
Report Includes

Market Size Data

Global market size data, historical (2018 to 2022) and forecast (2023 to 2033), by each segment and region
Regional level market size data, historical (2018 to 2022) and forecast (2023 to 2033), by each segment and country
Country level market share data, historical (2018 to 2022) and forecast (2023 to 2033), by each segment
Market attractiveness analysis based on market share index and CAGR index for each of the segments and regions
Incremental dollar opportunity generated in the forecast period would be indicated
Key Takeaways, Recommendations, and key investment pockets for the relevant segments would be highlighted

Market Background

Macroeconomic factors that impact the market developments
Market dynamics (Drivers, Restraints, Opportunities) that positively or negatively influence market growth
Supply Side and Demand Side trends – trends witnessed from buyers and suppliers side
Production and Consumption Gap Analysis – analysis of gap between production and consumption in any geography to fulfil unmet demand
Trade analysis and analysis of key supply and demand hubs
Identification of hotbed opportunities existing in the market
Porter's and PEST analysis to understand the business environment of the geography
Regulatory scenario – Identification of key sector specific and trade regulations, and assessment of whether it helps or hinder market development & growth

Pricing Analysis

Regional-level product pricing analysis to set and benchmark your current or future product offerings across each product type
Historical and projected pricing trends of the product which helps in determining the product's price and/or services beneficial for companies product lifecycle
Cost teardown analysis and key factors impacting pricing

Value Chain Analysis

Country-wise list of raw material suppliers

Raw material price trends and buyers' sentiment
Overview of Intelligent Sourcing Technique
Raw material procurement requirements
Vendor selection criteria

Country-wise list of product manufacturers
Country-wise list of distributors/traders
Country-wise list of end-users

End-Users/Customers consumption mapping
Key End-Users/Customers client list

Country-wise list of other key channel partners
Average profitability margins
Regional value chain dynamics

Competition Analysis

Market shares and production capacities of key players
Tier structure analysis of market
Comprehensive competition dashboard representing the top 10-15 players in the market
Individual company profiles of top 15 to 20 manufacturers

Business Overview
Product Portfolio
Key Financials
Recent Developments
SWOT Analysis
Strategies
Country Coverage
North America: U.S., Canada
Latin America: Brazil, Mexico, Argentina, Central America, Rest of Latin America
Western Europe: Germany, Italy, France, UK, Spain, Poland, Romania, Rest of Western Europe
Eastern Europe: Russia & Belarus, Balkan Countries, Baltic Countries, Central Asia, Rest of Eastern Europe
Middle East & Africa: KSA, UAE, Turkey, Israel, Northern Africa, South Africa, Rest of Middle East & Africa
East Asia: China, Japan, South Korea
South Asia & Pacific: India, ASEAN, Australia & New Zealand, Rest of South Asia & Pacific
Why Choose CVC Market Research?;
Specialized market research company
Impeccable and deep industry expertise
Wide range of offerings
Robust research methodology and statistical models with least deviation
Extensive reports and full-service consulting
Expert panel sanctioned industry outlook
Growth dynamics for calculated investments
Tri-level quality guarantee
6 months unlimited post-sales support
Regular planned and contracted report updates
Frequently Asked Questions
In the forecast period between 2022 and 2032, the market is expected to grow at a CAGR of 4.5%.
The thermoplastic pipe market is primarily driven by the growing use of reinforced thermoplastic pipes and thermoplastic composite pipes in onshore and offshore manufacturing operations.
Major global Thermoplastic Pipe Market players are Advanced Drainage Systems, TechnipFMC, NOV , Strohm, Baker Hughes Company, Wienerberger, Chevron Philips Chemical Company, Prysmian Group, Georg Fischer, Shawcor, IPEX, and PES.TEC, Saudi Arabian Amiantit, Simtech Process Systems, and Uponor Corporation.
The expense of PEEK or polyphenylene sulfide (PPS) composite pipes, which are unsuited for goods like pipes because they cost 20–100 times more than steel, is a major impediment to the expansion of the thermoplastic pipe business.
The Asia Pacific region is expected to account for the largest market revenue share in the Global Thermoplastic Pipe market.