Structural Adhesives Market Size Analysis
According to a recent survey conducted by ChemView Consulting, the Global Structural Adhesives Market grew at a CAGR of 4.9% between 2017-2021 and is estimated to be US$ 16,422.3Mn in 2022. Currently, the market is anticipated to grow at a CAGR of 5.8% and is expected to reach a valuation of US$ 28,859.6Mn by 2032 end.
In the coming years, there will likely be a big increase in demand for structural adhesives because of their growing popularity. The range of structural adhesives applications has expanded dramatically, raising demand.
Structural adhesives are an excellent alternative for application in various industry verticals due to their astoundingly optimum performance characteristics, which include high strength, load-bearing capacity, high heat resistance, etc. Some key drivers boosting demand for structural adhesives have increased demand for electric vehicles, shifting governmental laws, rising demand for buildings, and quickening infrastructure development.
Market Dynamic
HIGH DEMAND FOR ADHESIVES IN BUILDING & CONSTRUCTION AND WIND ENERGY APPLICATIONS
Demand for high-quality goods is rising due to the developing middle class, changing lifestyles, and rising living standards in China, India, and Mexico. New applications such exterior insulation systems, carpet adhesives, tiling adhesives, and wallpaper are driving the demand for structural bonds in the construction industry. The main uses of construction adhesives are in panels, wallboard, and floor systems.
These adhesives can prevent nail or screw head stains from appearing on the exterior of walls. Curtain wall panels and insulating glass modules are fixed in place using construction adhesives. The rise in population, urbanization and other factors are mostly to blame for the rising demand for permanent, non-slum housing in India and other developing nations like Brazil, China, Indonesia, and Vietnam.
DIFFERENT CHARACTERISTIC LIMITATIONS OF VARIOUS ADHESIVES
Mechanical qualities and features vary across structural adhesives. Epoxies are utilized in rigid bonding because of their exceptionally high shear strength, polyurethane is used in slightly flexible bonding because of its great strength, and acrylic is used in tough to slightly elastic bonding because of its exceptionally high impact and fatigue resistance. There are some restrictions on the properties of each type of glue.
Therefore, the type of application determines the choice of adhesives. The kind of glue to employ will depend on the substrate being bonded, the level of strength needed, the surrounding environment, and other factors. For instance, materials used to construct airplanes must undergo difficult certification processes that take a long time in the aerospace sector. They necessitate a higher quality of adhesives that must be heat resistant.
INCREASING DEMAND FOR NON-HAZARDOUS, GREEN, AND SUSTAINABLE STRUCTURAL ADHESIVES
The need for green adhesives or those with low VOCs is developing due to the rising demand for eco-friendly or green products in various applications. Manufacturers have been forced to produce eco-friendly adhesives with low VOC levels by strict regulations from the USEPA (United States Environmental Protection Association), Europe's REACH (Registration, Evaluation, Authorization, and Restrictions of Chemicals), Leadership in Energy and Environmental Design (LEED), and other regional regulatory authorities.
A growing tendency for environmentally friendly or green buildings is present in the worldwide structural adhesives market due to these regulatory rules, which presents a chance for developing environmentally friendly and sustainable adhesive solutions. These ecologically and health-friendly adhesive options are created from renewable, recycled, remanufactured, or biodegradable components.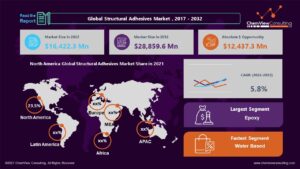 Market Segments Covered in Report
By Substrate:
Metal
Composite
Wood
Plastic
Others (leather, glass, ceramic, concrete)
By Technology:
Solvent-based
Water-based
Others (reactive hot melt, energy cured, and PSAs)
By Resin Type:
Epoxy
Polyurethane
Acrylic
Methyl Methacrylate
Cyanoacrylate
Others (bismaleimide (BMI), phenolic, polyimide, and silicone)
By Application:
Building & Construction
Automotive
Bus & Truck
Aerospace
Wind Energy
Rail
Marine
Others (agricultural machinery, sports equipment, and medical devices)
By Region and Country:
North America (U.S., Canada)
Latin America (Brazil, Mexico, Rest of Latin America)
Europe (Germany, Italy, France, UK, Spain, Netherlands, Norway, Russia, Rest of Europe)
Asia-Pacific (China, Japan, South Korea, India, Indonesia, Thailand, Vietnam, Australia & New Zealand, Rest of Asia-Pacific)
Middle East (Saudi Arabia, Turkey, UAE, Rest of Middle East)
Africa (South Africa, Nigeria, Egypt, Rest of Africa)
Segment-Wise Analysis
Why does the epoxy resin adhesive lead the overall structural adhesives market during the forecast period?
Epoxy is the most widely used structural glue because it adheres to a variety of materials, is extremely strong, emits few volatile organic compounds (VOCs) during the curing process, and can support heavy loads. They are available in one-component and two-component forms.
Epoxy structural adhesives are used to attach a variety of substrates, including ceramics, metal, wood, concrete, composites, and rubber, in the transportation industries of buses, trucks, and rail. Epoxy structural adhesives provide excellent mechanical, thermal, and electrical qualities and high strength. High-performance epoxy resin glue is in higher demand in North America, particularly for applications in the automotive, aircraft, industrial maintenance, and concrete coatings industries.
Why is the water-based segment increasing in demand in the anticipated period?
The water-based category, which led the market in terms of product type, is expected to expand at a CAGR of 7.2% throughout the projected period. This is explained by the fact that its suitability for several end-use industries may be linked to features like adhesion quality, wet tackiness, enhanced adhesion with the painted metal surface, quick drying time, and low flammability.
Why does wind energy register the highest CAGR during the forecast period?
The market segment for wind energy is anticipated to experience the greatest CAGR throughout the forecast period. This expansion is linked to the rising need for a renewable energy source. The market for structural adhesives is expanding due to the increased use of adhesives in wind turbine blades to attach parts, such as the rotor blades of wind turbines.
Region-Wise Analysis
The regions analyzed for the market include North America, Europe, Latin America, Asia Pacific, Middle East, and Africa.
The structural adhesives market in North America, which accounted for 23.5% of the global structural adhesives market share, is anticipated to develop at the highest CAGR of 8.9% during the forecast period. Structural adhesives are utilized as a primary bonding agent to attach electronic assemblies, conductive films, and other components. This is due to the growing demand for consumer electronics products.
The largest and most rapidly expanding market for structural adhesives is in APAC. China is a significant consumer in the area. Some key factors driving the market in APAC include rapid industrialization, changes in the manufacturing bases of end-use industries, and an increase in the number of applications for structural adhesives.
Competition Analysis
As industry standards change across various industry verticals, structural adhesive manufacturers are investing in developing new adhesives with better curing properties.
The key developments in the Global Structural Adhesives Market:
In December 2021, among the top companies in the curing and adhesives sector, Dymax unveiled a new glue for the assembly of batteries for electric vehicles. To attach cylindrical battery cells to plastic bases and holders and build a battery pack structure, the new 9501-F adhesive offers outstanding metal binding strength.
In June 2021, new adhesives for aerospace applications were introduced, according to Solvay, a well-known company in the chemical sector. The new adhesives, AeroPaste 1006, 1009, and 1100, as well as BR 179 non-chromate primer, provide greater processing versatility and more effective part assembly.
A list of some of the key suppliers present in the market are:
3M Company
Sika AG
Henkel AG & Co. KGaA
The Dow Chemical Company
B.Fuller
Scott Bader Co.
Uniseal Inc.
Huntsman Corporation
Ashland Inc.
Lord Corporation
Illinois Tool Works Inc.
Permabond LLC
MAPEI
Ardex
Report Coverage and Highlights
Our comprehensive, data-backed, and facts-oriented report provides niche and cross-sectional analysis at global and country levels.
Assessment of the historical (actual data) and current market size (2017-2021), market projections (2022-2032), and CAGR.
The market assessment across North America, Europe, East Asia, South Asia & Pacific, Latin America, Middle East, and Africa.
Competitive tactical intelligence, key strategies adopted by top players, production capacity and company shares analysis, product brand surveys, and export-import analysis
Pricing analysis to set and benchmark your current or future offerings across each product type helps you understand whether your pricing strategy is aligned with market expectations and can be compared to market disruptions.
Predictions on critical supply and demand trends and technological expertise needed to address operations scalability.
Consumer behavior shifts and their implications for players, list of end-users, and their consumption analysis.
Key drivers, restraints, opportunities, and emerging trends impacting the market growth.
Value chain analysis (list of manufacturers, distributors, end-users, and average profitability margins).
Strategic market analysis, recommendations, and future headways on crucial winning strategies.
| | |
| --- | --- |
| Research Scope | Details |
| Forecast period | 2022-2032 |
| Historical data available for | 2017-2021 |
| Market analysis | USD Million for Value and Tons for Volume, and CAGR from 2022 to 2032 |
| Key regions covered | North America, Latin America, Europe, Asia-Pacific, Middle East, and Africa |
| Key countries covered | US, Canada, Brazil, Mexico, Germany, Italy, France, UK, Spain, Netherlands, Norway, Russia, China, Japan, South Korea, India, Indonesia, Thailand, Vietnam, Australia & New Zealand, Saudi Arabia, Turkey, UAE, South Africa, Nigeria, Egypt |
| Key segments covered | By Substrate, Technology, Resin Type, Application, and Region |
| Customization scope | Available upon Request |
| Pricing and purchase options | Available upon Request |
Report Includes

Market Size Data

Global market size data, historical (2018 to 2022) and forecast (2023 to 2033), by each segment and region
Regional level market size data, historical (2018 to 2022) and forecast (2023 to 2033), by each segment and country
Country level market share data, historical (2018 to 2022) and forecast (2023 to 2033), by each segment
Market attractiveness analysis based on market share index and CAGR index for each of the segments and regions
Incremental dollar opportunity generated in the forecast period would be indicated
Key Takeaways, Recommendations, and key investment pockets for the relevant segments would be highlighted

Market Background

Macroeconomic factors that impact the market developments
Market dynamics (Drivers, Restraints, Opportunities) that positively or negatively influence market growth
Supply Side and Demand Side trends – trends witnessed from buyers and suppliers side
Production and Consumption Gap Analysis – analysis of gap between production and consumption in any geography to fulfil unmet demand
Trade analysis and analysis of key supply and demand hubs
Identification of hotbed opportunities existing in the market
Porter's and PEST analysis to understand the business environment of the geography
Regulatory scenario – Identification of key sector specific and trade regulations, and assessment of whether it helps or hinder market development & growth

Pricing Analysis

Regional-level product pricing analysis to set and benchmark your current or future product offerings across each product type
Historical and projected pricing trends of the product which helps in determining the product's price and/or services beneficial for companies product lifecycle
Cost teardown analysis and key factors impacting pricing

Value Chain Analysis

Country-wise list of raw material suppliers

Raw material price trends and buyers' sentiment
Overview of Intelligent Sourcing Technique
Raw material procurement requirements
Vendor selection criteria

Country-wise list of product manufacturers
Country-wise list of distributors/traders
Country-wise list of end-users

End-Users/Customers consumption mapping
Key End-Users/Customers client list

Country-wise list of other key channel partners
Average profitability margins
Regional value chain dynamics

Competition Analysis

Market shares and production capacities of key players
Tier structure analysis of market
Comprehensive competition dashboard representing the top 10-15 players in the market
Individual company profiles of top 15 to 20 manufacturers

Business Overview
Product Portfolio
Key Financials
Recent Developments
SWOT Analysis
Strategies
Country Coverage
North America: U.S., Canada
Latin America: Brazil, Mexico, Argentina, Central America, Rest of Latin America
Western Europe: Germany, Italy, France, UK, Spain, Poland, Romania, Rest of Western Europe
Eastern Europe: Russia & Belarus, Balkan Countries, Baltic Countries, Central Asia, Rest of Eastern Europe
Middle East & Africa: KSA, UAE, Turkey, Israel, Northern Africa, South Africa, Rest of Middle East & Africa
East Asia: China, Japan, South Korea
South Asia & Pacific: India, ASEAN, Australia & New Zealand, Rest of South Asia & Pacific
Why Choose CVC Market Research?;
Specialized market research company
Impeccable and deep industry expertise
Wide range of offerings
Robust research methodology and statistical models with least deviation
Extensive reports and full-service consulting
Expert panel sanctioned industry outlook
Growth dynamics for calculated investments
Tri-level quality guarantee
6 months unlimited post-sales support
Regular planned and contracted report updates
Frequently Asked Questions
In the forecast period between 2022 and 2032, the market is expected to grow at a CAGR of 5.8%.
High demand for adhesives in building & construction and wind energy applications.
Major global Structural Adhesives Market players are 3M Company, Sika AG, Henkel AG & Co. KGaA, The Dow Chemical Company, H.B.Fuller, Scott Bader Co., Uniseal Inc., Huntsman Corporation, Ashland Inc., Lord Corporation, Illinois Tool Works Inc., Permabond LLC, MAPEI, Ardex
Different characteristic limitations of various adhesives
North America is expected to account for the largest market revenue share in the Global Structural Adhesives market.