Stand-up Pouches Market Size Analysis
According to a recent survey conducted by ChemView Consulting, the Global Stand-up Pouches Market grew at a CAGR of 5.6% between 2017-2021 and is estimated to be US$ 12,436.8 Mn in 2022. Currently, the market is anticipated to grow at a CAGR of 5.0% and is expected to reach a valuation of US$ 20,258.2 Mn by 2032 end.
Stand-up pouches are a great alternative to conventional bag-in-box packaging since they can stand on shelves. Stand-up pouches are considered the best choice for stores and other general display needs in the retail industry since they are built with a bottom gusset, giving them self-standing strength. The new trend in food product packaging is the stand-up pouch, which has several typical characteristics such as a re-closable zipper, tear notches, bottom gussets, windows, and hang holes.
Market Dynamic
THE RISE IN DEMAND FOR ON-THE-GO SNACKS AND THE TREND TOWARDS CONVENIENT PACKAGING MEANS TO FUEL DEMAND
The ability to eat tiny amounts intermittently from a freestanding and re-closable packaging has made portable and portion-controlled snack packaging, including re-closable stand-up pouches, popular. As a result, the demand for snack foods is rising as consumers seek products that provide portion control, convenience, and mobility in addition to full meals' healthiness and nutritional value.
Additionally, over the past few decades, food technology has advanced quickly, which has changed how consumers behave toward food. People favor healthful, portable, and handy portion-controlled sweets over meals. The importance of "clean eating" and natural energy-boosting snacks is rising, driving demand. The preference for snacking over
THE FLEXIBLE NATURE OF STAND-UP POUCHES TO LOSE GRIP CAN RESTRAIN THE MARKET
Stand-up pouches are eye-catching for product display and can stand up in the corner or on the shelf. Unlike glass or metal cans, it does not affect the product contents inside the pouch, even if it falls. But when these pouches are filled, they stand tall. However, as the bag's contents begin to empty, the pocket loses its ability to stand erect and tumbles to the ground. Long-term, this could provide a significant threat to the market.
SUSTAINABLE AND NEW FLEXIBLE PLASTICS PACKAGING SOLUTIONS
Manufacturers have been encouraged to create new packaging alternatives due to dynamic industry changes like introducing new regulatory initiatives. Manufacturers have made biodegradable and sustainable packaging choices that are safe and secure in response to growing environmental concerns about the usage of plastics for flexible packaging.
Manufacturers are looking into sustainable packaging options that use fewer resources and energy during production, save money on transportation costs, and increase the shelf life of products to ease cost pressure and preserve the integrity of product packages.
COVID-19 Impact
During the COVID-19 outbreak, personal care product sales significantly decreased. Supply chain disruption during the pandemic's early phases affected product sales. The closure in China, one of the main producers of raw materials, hurt the packaging manufacturers.
However, consumption of packaged food items increased significantly. Unsurprisingly, a sizable percentage of consumers selected packaged food products such as ready-to-eat food, ready-to-cook food, and packaged meal components. The strong demand around the globe helped to mitigate the negative effects of COVID-19 on the market.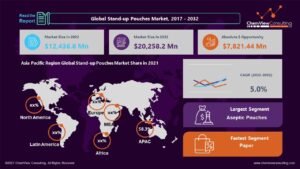 Market Segments Covered in Report
By Form:
Round Bottom
Rollstock
K-style
Plow/Folded Bottom
Flat Bottom
Others
By Type:
Aseptic Stand-up Pouches
Standard Stand-up Pouches
Retort Stand-up Pouches
Hot-filled Stand-up Pouches
By Closure Type :
By Material:
Plastic
Metal/Foil
Paper
Bioplastic
By Application:
Food & Beverage
Cosmetics & Toiletries
Healthcare
Others
By Region and Country:
North America (U.S., Canada)
Latin America (Brazil, Mexico, Rest of Latin America)
Europe (Germany, Italy, France, UK, Spain, Netherlands, Norway, Russia, Rest of Europe)
Asia-Pacific (China, Japan, South Korea, India, Indonesia, Thailand, Vietnam, Australia & New Zealand, Rest of Asia-Pacific)
Middle East (Saudi Arabia, Turkey, UAE, Rest of Middle East)
Africa (South Africa, Nigeria, Egypt, Rest of Africa)
Segment-Wise Analysis
Why are aseptic pouches projected to ensure the most revenue during the forecast period?
The aseptic stand-up pouch is a type of sterilized packaging used to package products that have undergone thermal sterilization, including food, drinks, and pharmaceuticals. Yogurt, ice cream mixes, fruit juices, infant food, and salad dressings are a few products frequently packaged in aseptic stand-up pouches. Aseptic stand-up pouches provide items with little to no preservatives with a longer shelf life.
Why is the spout segment expected to expand the fastest during the forecast period?
Over the projected period, the spout closure category is anticipated to develop at the fastest rate. This closure includes a tube linked to the pouch and allows liquids and pastes to be poured through it. They provide several benefits, including simple opening and closing and easier product running into the bag.
Region-Wise Analysis
The regions analyzed for the market include North America, Europe, Latin America, Asia Pacific, Middle East, and Africa.
With a market share of 58.3% and a projected growth rate of 8.0%, the Asia-Pacific is predicted to be the most profitable area. Changes in lifestyle, the growing influence of western culture, expanding consumer spending power, and increased demand for easy packaging are anticipated to be the major drivers of the region's growth during the analysis.
Above the forecast period, North America is expected to increase at a rate of over 6.0%. The market is anticipated to grow over the forecast period due to factors such as the high demand for packaged food, such as ready-to-eat meals, and the rising popularity of stand-up pouches due to their shelf readiness, portability, lightweight, and lower material usage than rigid packaging products.
Competition Analysis
To improve their position in the market, the corporations have implemented a variety of organic and inorganic growth tactics. These top players used various growth methods, including new product development, joint ventures, acquisitions, and expansion, to broaden their product line, establish a stronger regional presence, and fulfill the rising demand for stand-up pouches in emerging nations.
Some of the key developments that have taken place in the Stand-up Pouches Market include:
In June 2021, Amcor introduced a specialized multi-chamber pouch for products that combine drugs and devices. The Flexible Packaging Association has previously recognized the Dual Chamber Pouch with a 2021 Award for its material and technical innovation.
In September 2020, Amcor, a packaging company, and Nestlé claimed to have created the world's first recyclable flexible retort pouch for consumer goods.
A list of some of the key suppliers present in the market are:
Sonoco Products Company
Amcor plc
ProAmpac
Mondi
Clondalkin Group
Coveris
Huhtamaki Group
Winpak Ltd.
Smurfit Kappa
Sealed Air
Bischof+Klein
FLAIR Flexible Packaging Corporation
Glenroy, Inc.
Hood Packaging Corporation
Uflex Limited
Report Coverage and Highlights
Our comprehensive, data-backed, and facts-oriented report provides niche and cross-sectional analysis at global and country levels.
Assessment of the historical (actual data) and current market size (2017-2021), market projections (2022-2032), and CAGR.
The market assessment across North America, Europe, East Asia, South Asia & Pacific, Latin America, Middle East, and Africa.
Competitive tactical intelligence, key strategies adopted by top players, production capacity and company shares analysis, product brand surveys, and export-import analysis
Pricing analysis to set and benchmark your current or future offerings across each product type helps you understand whether your pricing strategy is aligned with market expectations and can be compared to market disruptions.
Predictions on critical supply and demand trends and technological expertise needed to address operations scalability.
Consumer behavior shifts and their implications for players, list of end-users, and their consumption analysis.
Key drivers, restraints, opportunities, and emerging trends impacting the market growth.
Value chain analysis (list of manufacturers, distributors, end-users, and average profitability margins).
Strategic market analysis, recommendations, and future headways on crucial winning strategies.
| | |
| --- | --- |
| Research Scope | Details |
| Forecast period | 2022-2032 |
| Historical data available for | 2017-2021 |
| Market analysis | USD Million for Value and Tons for Volume, and CAGR from 2022 to 2032 |
| Key regions covered | North America, Latin America, Europe, Asia-Pacific, Middle East, and Africa |
| Key countries covered | US, Canada, Brazil, Mexico, Germany, Italy, France, UK, Spain, Netherlands, Norway, Russia, China, Japan, South Korea, India, Indonesia, Thailand, Vietnam, Australia & New Zealand, Saudi Arabia, Turkey, UAE, South Africa, Nigeria, Egypt |
| Key segments covered | By Form, Type, Closure Type, Material, Application, and Region |
| Customization scope | Available upon Request |
| Pricing and purchase options | Available upon Request |
Report Includes

Market Size Data

Global market size data, historical (2018 to 2022) and forecast (2023 to 2033), by each segment and region
Regional level market size data, historical (2018 to 2022) and forecast (2023 to 2033), by each segment and country
Country level market share data, historical (2018 to 2022) and forecast (2023 to 2033), by each segment
Market attractiveness analysis based on market share index and CAGR index for each of the segments and regions
Incremental dollar opportunity generated in the forecast period would be indicated
Key Takeaways, Recommendations, and key investment pockets for the relevant segments would be highlighted

Market Background

Macroeconomic factors that impact the market developments
Market dynamics (Drivers, Restraints, Opportunities) that positively or negatively influence market growth
Supply Side and Demand Side trends – trends witnessed from buyers and suppliers side
Production and Consumption Gap Analysis – analysis of gap between production and consumption in any geography to fulfil unmet demand
Trade analysis and analysis of key supply and demand hubs
Identification of hotbed opportunities existing in the market
Porter's and PEST analysis to understand the business environment of the geography
Regulatory scenario – Identification of key sector specific and trade regulations, and assessment of whether it helps or hinder market development & growth

Pricing Analysis

Regional-level product pricing analysis to set and benchmark your current or future product offerings across each product type
Historical and projected pricing trends of the product which helps in determining the product's price and/or services beneficial for companies product lifecycle
Cost teardown analysis and key factors impacting pricing

Value Chain Analysis

Country-wise list of raw material suppliers

Raw material price trends and buyers' sentiment
Overview of Intelligent Sourcing Technique
Raw material procurement requirements
Vendor selection criteria

Country-wise list of product manufacturers
Country-wise list of distributors/traders
Country-wise list of end-users

End-Users/Customers consumption mapping
Key End-Users/Customers client list

Country-wise list of other key channel partners
Average profitability margins
Regional value chain dynamics

Competition Analysis

Market shares and production capacities of key players
Tier structure analysis of market
Comprehensive competition dashboard representing the top 10-15 players in the market
Individual company profiles of top 15 to 20 manufacturers

Business Overview
Product Portfolio
Key Financials
Recent Developments
SWOT Analysis
Strategies
Country Coverage
North America: U.S., Canada
Latin America: Brazil, Mexico, Argentina, Central America, Rest of Latin America
Western Europe: Germany, Italy, France, UK, Spain, Poland, Romania, Rest of Western Europe
Eastern Europe: Russia & Belarus, Balkan Countries, Baltic Countries, Central Asia, Rest of Eastern Europe
Middle East & Africa: KSA, UAE, Turkey, Israel, Northern Africa, South Africa, Rest of Middle East & Africa
East Asia: China, Japan, South Korea
South Asia & Pacific: India, ASEAN, Australia & New Zealand, Rest of South Asia & Pacific
Why Choose CVC Market Research?;
Specialized market research company
Impeccable and deep industry expertise
Wide range of offerings
Robust research methodology and statistical models with least deviation
Extensive reports and full-service consulting
Expert panel sanctioned industry outlook
Growth dynamics for calculated investments
Tri-level quality guarantee
6 months unlimited post-sales support
Regular planned and contracted report updates
Frequently Asked Questions
In the forecast period between 2022 and 2032, the market is expected to grow at a CAGR of 5.0%.
Demand for on-the-go snacks and the trend towards convenient packaging means fueling demand.
Major global Stand-up Pouches Market players are Sonoco Products Company, Amcor plc, ProAmpac, Mondi, Clondalkin Group, Coveris, Huhtamaki Group, Winpak Ltd., Smurfit Kappa, Sealed Air, Bischof+Klein, FLAIR Flexible Packaging Corporation, Glenroy, Inc., Hood Packaging Corporation, Uflex Limited
The flexible nature of stand-up pouches to lose grip can restrain the market
The Asia Pacific region is expected to account for the largest market revenue share in the Global Stand-up Pouches market.