Global Solar Tracker Market Size Analysis
According to a research survey conducted by ChemView Consulting, in 2022, the Global Solar Tracker Market was worth US$ 4,236.8 Mn and is expected to grow at a CAGR of 10.1% over the forecast period. While the historical CAGR is 8.6%, the market is expected to hit US$ 11,089.5 Mn by 2032 end.
A system known as a solar tracker places an object about the sun at an angle. Putting photovoltaic (PV) panels that remain perpendicular to the sun's beams and setting up space telescopes to determine the sun's direction constitute the most popular solar tracking system.
A PV tracking system changes a solar panel's path in response to the sun's position in the sky. More sunlight enters the solar panel, less light is reflected, and more solar energy is absorbed when the board is kept perpendicular to the sun. It is possible to turn the point into power.
Market Dynamic
GREEN ENERGY TARGETS TO FUEL INVESTMENTS IN THE SOLAR INDUSTRY
Carbon reduction has accelerated the adoption of renewable energies as the globe transitions to a clean energy future. Solar technology and other renewable energy technologies have dramatically improved, enabling quick deployment and offering affordable solutions for decarbonizing the energy sector. As a modular strategy easily scalable for large and small enterprises, the unequal adoption of a solar tracking system has drawn increasing attention as an energy justice issue.
For instance, Mahindra Sustain chose NEXTracker as the Sakaka Solar Park supplier. The project is being carried out as a part of Saudi Arabia's national initiative to deploy renewable energy sources. By 2023 and 58.7 GW by 2030, the project is anticipated to have a total capacity of 9.5 GW.
HIGH INVESTMENT AND LACK OF REQUIRED INFRASTRUCTURE POSE A THREAT TO MARKET GROWTH
The increase in steel costs, which further raises the price of the tracking systems employed in most utility-scale projects, is one of the main reasons impeding the solar tracker market growth. Steel often accounts for more than 65.0% of the entire cost of solar tracking systems, making them more expensive.
Additionally, the solar tracking system's overall cost is higher than setting up standard solar panels, which discourages its use in residential settings where energy demand is often lower. For comparison, the price of installing 15 ground-mounted solar panels with a power rating of 300 watts is USD 14,625. Each solar module would cost an additional USD 500 for installation due to this increase in start-up costs.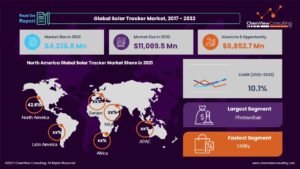 Market Segments Covered in Report
By Type:
Photovoltaic (PV)
Concentrated Solar Power (CSP)
By Application:
By Movement:
By Region and Country:
North America (U.S., Canada)
Latin America (Brazil, Mexico, Rest of Latin America)
Europe (Germany, Italy, France, UK, Spain, Netherlands, Norway, Russia, Rest of Europe)
Asia-Pacific (China, Japan, South Korea, India, Indonesia, Thailand, Vietnam, Australia & New Zealand, Rest of Asia-Pacific)
Middle East (Saudi Arabia, Turkey, UAE, Rest of Middle East)
Africa (South Africa, Nigeria, Egypt, Rest of Africa)
Segment-Wise Analysis
Which solar tracker type accounts for dominant share in the market?
The greatest technology sector, with a revenue share of almost 85.0%, was solar photovoltaic (PV). The main factor behind the largest share of PV technology is the compatibility of PV cells with conventional photovoltaic module technologies. The usage of solar PV in utility and non-utility applications will be further boosted by the growing cost of power caused by the supply-demand gap.
Compared to the mirrors, lenses, and Fresnel collectors used on the CSP and CPV technology trackers, the use of solar trackers on PV modules is subject to fewer design restrictions. Over the predicted period, these attributes will promote the development of solar trackers in PV technology. New technology in the solar sector is CPV. Due to their low production costs and minimal need for raw materials, CPV systems generate affordable solar energy. To create a point, this technology concentrates a lot of sunlight onto a tiny surface of PV materials using optics, like lenses.
Why is it expected that the demand for Utility segment will be highest during the forecast period?
With a revenue share of more than 80.0%, utilities dominated the application market in 2021. Solar trackers are anticipated to be used more frequently in utility applications due to rising electricity costs and growing demand for renewable energy sources. Throughout the predicted period, this tendency is expected to persist.
Since solar utility installations are ground-mounted and single-axis trackers may be used to follow the sun all day, they are the most popular solar tracking system in the utility industry. Due to growing government subsidies and feed-in tariff programs, notably in the North American and European areas, trackers are widely utilized in utility applications.
Region-Wise Analysis
The regions analyzed for the market include North America, Europe, Latin America, Asia Pacific, the Middle East, and Africa.
North America accounted for 42.6% of the market, and this trend is anticipated to remain until 2032. The Paris Agreement on Climate Change encouraged the use of renewable energy in the country's energy supply, and the growing emphasis on renewable energy is principally responsible for the growth.
The projection period is expected to see the highest growth across the Middle East and Africa. Due to the region's great solar potential and increased investment in solar projects, particularly in the UAE and Saudi Arabia, the next ten years will likely see significant expansion in the region. Due to substantial investments made by both domestic and foreign parties, Saudi Arabia held the highest share in the Middle East and Africa among them.
Competition Analysis
Due to the increasing industrial demand for sophisticated technology for tracking reasons, businesses are concentrating on developing goods based on advanced technology. Manufacturing organizations are implementing various organic and inorganic expansion techniques to extend their geographic reach and product offering. Major solar tracker manufacturers base their strategy on bagging orders for large purchases, allowing them to take advantage of economies of scale. Solar tracker research & development is a key differentiator for businesses in this market.
The key developments in the Global Solar Tracker Market are:
In February 2022, Solar Steel is creating a project dubbed Digital Twins for the design, engineering, and O&M phases of solar projects. A digital twin virtually replicates a process or product's behaviour and performance. This makes it possible to foresee failures and unusual circumstances and take preventative measures to avert them.
In April 2021, with Primoris Services Corporation, Array Technologies, Inc. won a contract to provide up to 4 GW solar trackers for use in more than ten projects across North America.
A list of some of the key suppliers present in the market are:
Abengoa Solar S.A.
AllEarth Renewables
Array Technologies Inc.
DEGERenergie GmbH & Co. KG
Nclave
Powerway Renewable Energy Co. Ltd.
Soltec Tracker
SunPower Corporation
Titan Tracker
Trina Solar Limited
Global Solar Tracker Market 2022-2032: Report Coverage and Highlights
Assessment of the historical and current market size (2017-2021), market projections (2022-2032), and its contribution to the parent market
Key drivers, restraints, opportunities, and key emerging trends impacting market growth
Predictions on critical supply, demand, and technological trends and changes in consumer behavior
Value chain analysis (list of manufacturers, distributors, end-users, average profitability margins, etc.)
Segment-wise, country-wise, and region-wise market analysis
Competition mapping, market share analysis, key strategies adopted by top players, and competitive tactical intelligence
Key product innovations and regulatory framework
Covid-19 impact on the market and how to navigate
Strategic market analysis and recommendations on crucial winning strategies
| | |
| --- | --- |
| Research Scope | Details |
| Forecast period | 2022-2032 |
| Historical data available for | 2017-2021 |
| Market analysis | USD Million for Value and Tons for Volume, and CAGR from 2022 to 2030 |
| Key regions covered | North America, Latin America, Europe, Asia-Pacific, Middle East, and Africa |
| Key countries covered | US, Canada, Brazil, Mexico, Germany, Italy, France, UK, Spain, Netherlands, Norway, Russia, China, Japan, South Korea, India, Indonesia, Thailand, Vietnam, Australia & New Zealand, Saudi Arabia, Turkey, UAE, South Africa, Nigeria, Egypt |
| Key segments covered | By Type, Application, Movement, and Region |
| Customization scope | Available upon Request |
| Pricing and purchase options | Available upon Request |
Report Includes

Market Size Data

Global market size data, historical (2018 to 2022) and forecast (2023 to 2033), by each segment and region
Regional level market size data, historical (2018 to 2022) and forecast (2023 to 2033), by each segment and country
Country level market share data, historical (2018 to 2022) and forecast (2023 to 2033), by each segment
Market attractiveness analysis based on market share index and CAGR index for each of the segments and regions
Incremental dollar opportunity generated in the forecast period would be indicated
Key Takeaways, Recommendations, and key investment pockets for the relevant segments would be highlighted

Market Background

Macroeconomic factors that impact the market developments
Market dynamics (Drivers, Restraints, Opportunities) that positively or negatively influence market growth
Supply Side and Demand Side trends – trends witnessed from buyers and suppliers side
Production and Consumption Gap Analysis – analysis of gap between production and consumption in any geography to fulfil unmet demand
Trade analysis and analysis of key supply and demand hubs
Identification of hotbed opportunities existing in the market
Porter's and PEST analysis to understand the business environment of the geography
Regulatory scenario – Identification of key sector specific and trade regulations, and assessment of whether it helps or hinder market development & growth

Pricing Analysis

Regional-level product pricing analysis to set and benchmark your current or future product offerings across each product type
Historical and projected pricing trends of the product which helps in determining the product's price and/or services beneficial for companies product lifecycle
Cost teardown analysis and key factors impacting pricing

Value Chain Analysis

Country-wise list of raw material suppliers

Raw material price trends and buyers' sentiment
Overview of Intelligent Sourcing Technique
Raw material procurement requirements
Vendor selection criteria

Country-wise list of product manufacturers
Country-wise list of distributors/traders
Country-wise list of end-users

End-Users/Customers consumption mapping
Key End-Users/Customers client list

Country-wise list of other key channel partners
Average profitability margins
Regional value chain dynamics

Competition Analysis

Market shares and production capacities of key players
Tier structure analysis of market
Comprehensive competition dashboard representing the top 10-15 players in the market
Individual company profiles of top 15 to 20 manufacturers

Business Overview
Product Portfolio
Key Financials
Recent Developments
SWOT Analysis
Strategies
Country Coverage
North America: U.S., Canada
Latin America: Brazil, Mexico, Argentina, Central America, Rest of Latin America
Western Europe: Germany, Italy, France, UK, Spain, Poland, Romania, Rest of Western Europe
Eastern Europe: Russia & Belarus, Balkan Countries, Baltic Countries, Central Asia, Rest of Eastern Europe
Middle East & Africa: KSA, UAE, Turkey, Israel, Northern Africa, South Africa, Rest of Middle East & Africa
East Asia: China, Japan, South Korea
South Asia & Pacific: India, ASEAN, Australia & New Zealand, Rest of South Asia & Pacific
Why Choose CVC Market Research?;
Specialized market research company
Impeccable and deep industry expertise
Wide range of offerings
Robust research methodology and statistical models with least deviation
Extensive reports and full-service consulting
Expert panel sanctioned industry outlook
Growth dynamics for calculated investments
Tri-level quality guarantee
6 months unlimited post-sales support
Regular planned and contracted report updates
Frequently Asked Questions
In the forecast period between 2022 and 2032, the market is expected to grow at a CAGR of 10.1%.
Green energy targets fuel investments in the solar industry.
High investment and lack of required infrastructure pose a threat to market growth.
Key Global Solar Tracker Market players are Abengoa Solar S.A., AllEarth Renewables, Array Technologies Inc., DEGERenergie GmbH & Co. KG, Nclave, Powerway Renewable Energy Co. Ltd., Soltec Tracker, SunPower Corporation, Titan Tracker, Trina Solar Limited
North America is expected to account for the largest market revenue share in the Global Solar Tracker Market.