Smart Solar Market Size Analysis
According to a research survey conducted by ChemView Consulting, in 2022, the Global Smart Solar Market was worth US$ 8,958.7 Mn and is expected to grow at a CAGR of 15.1% over the forecast period. The market is expected to hit US$ 36,559.3 Mn by 2032 end. From 2017–2021, when the market's CAGR was 12.6%, the market underwent significant growth.
The rapid growth in the number of consumers and their demand for solar panel products has driven the smart solar market globally, thereby increasing its potential. The implementation of smart solar solutions helps users to minimize their electricity expenses and increase the efficiency of solar components through real-time monitoring and communication.
Market Dynamic
THE GROWTH IN THE ROOF-FRIENDLY INSTALLATION FUELS MARKET GROWTH
Smart solar systems, as opposed to conventional solar systems, help reduce waste and make the best use of power. This function of smart solar systems promotes industrial development and lowers the price of energy production. As solar PV panels are used in solar power systems, they must be installed so they face the sun at all times. Mounting solar panels on rooftops is therefore recommended. Lightweight solar panels were developed to make installing solar panels on rooftops easier. Additionally, no holes had to be put in the rooftop to install them, and rainwater neither disturbs the racks nor collects in the panels.
GOVERNMENTAL REGULATIONS AND SUBSIDIES CREATE  THE MARKET GROWTH OPPORTUNITIES
To boost the Smart Solar Market Outlook, many nations have provided incentives for installing Smart Solar systems in their domestic structures. Germany maintains a higher value in obtaining solar capacity, making it one of the top participants. Various Smart Solar sectors use different growth tactics to raise the market value, including mergers and acquisitions, partnerships, and collaborations. In contrast to the residential division, the commercial and industrial parts drive the market's demand. This is a significant possibility for the value of the need for smart solar to increase.
HIGH COSTS AFFECT THE MARKET GROWTH
The expansion of the smart solar market is being hampered by the demand for greater starting expenses and higher maintenance costs. Smart solar systems, largely digital, can track the weather and use that information to project the solar system in agreement with requirements.
Data management problems and the need to replace devices are two problems impeding the market's expansion. Solar power plants involve a large amount of land to be installed, but solar PV systems cannot be placed on the ground that is already developed, forested, or used for agriculture. The biggest barrier to the market's expansion is unstable terrain because solar PV systems cannot be installed there.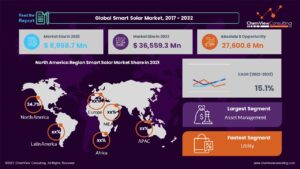 Market Segments Covered in Report
By Product:
Photovoltaic Cells
Photovoltaic Panels
Invertors
Generators
Other Products
By Solution:
Asset Management
Network Monitoring
Meter Data Management
Analytics
Remote Metering
Outage Management
By End-Use:
Commercial
Industrial
Residential
By Region and Country:
North America (U.S., Canada)
Latin America (Brazil, Mexico, Rest of Latin America)
Europe (Germany, Italy, France, UK, Spain, Netherlands, Norway, Russia, Rest of Europe)
Asia-Pacific (China, Japan, South Korea, India, Indonesia, Thailand, Vietnam, Australia & New Zealand, Rest of Asia-Pacific)
Middle East (Saudi Arabia, Turkey, UAE, Rest of Middle East)
Africa (South Africa, Nigeria, Egypt, Rest of Africa)
Segment-Wise Analysis
Why is Asset Management projected to have the highest Pace?
The asset management segment held a dominant smart solar market share in 2021. The market is segmented based on service: asset management, network monitoring, remote metering,  meter data management, and others. Technological innovation has led to additional functionality of meter data management to support more business processes through the utility value chain, such as customer billing, credit management, and meter asset management.
Why is the intelligrid segment expected to expand the fastest during the forecast period?
The intelligrid segment held a predominant share of the market. Intelligrid is a fully functional power delivery system incorporating sensors, communications, enhanced computational ability, and electronic control. It delivers reliable, digital-grade power to government initiatives for adopting non-conventional energy sources, along with the surging electricity tariffs and gas prices.
Region-Wise Analysis
The regions analyzed for the market include North America, Europe, Latin America, Asia Pacific, Middle East, and Africa.
North America held the largest share of the Smart Solar Market in 2021, up to 34.7 %. The North American market is expected to be the leading global market for smart solar meters in the forecast period. The growing number of smart solar projects in the region further increases vendors' demand for this product. Additionally, many grants and subsidies have been provided by the U.S. government to boost their solar energy installation rates, facilitating faster growth in the region.
The Asia Pacific is predicted to be the fastest-growing region in the solar power market. The main reason for this growth is government support for solar energy and growing smart city projects. We find that high solar irradiance and low manufacturing cost of components are key factors driving the market growth, encouraging countries such as China and India to install more solar power systems.
Competition Analysis
As the industry grows in demand, it is imperative to invest in research and development efforts to propel market growth across the forecast period. The global pandemic has proven to be a formidable hurdle for several pharmaceutical companies, and most are rethinking their development strategies.
Some of the key developments that have taken place in the Smart Solar Market include the following:
January 2018, Itron, Inc., a market leader in technology and consulting services, declared that the acquisition of Silver Spring Networks, Inc. was now complete. With this acquisition, Itron has improved its capacity to offer a wider range of solutions, accelerate growth and innovation in smart cities and industrial IoT markets, and give customers more choice and flexibility when adopting IoT solutions.
November 2020, Solarcentury has agreed to be acquired by Statkraft, the largest renewable energy generator in Europe. This purchase is consistent with the business's plan to expand as wind and solar energy developer and rank among the world's top renewable energy businesses.
A list of some of the key suppliers present in the market are:
ABB
Itron Inc.
Aeris
Solnet Group
Aclara Technologies LLC
General Electric
Huawei Technologies Co., Ltd
Siemens
Landis+Gyr
Schneider Electric
HCL Technologies
Global Smart Solar Market 2022-2032: Report Coverage and Highlights
Assessment of the historical and current market size (2017-2021), market projections (2022-2032), and its contribution to the parent market
Key drivers, restraints, opportunities, and key emerging trends impacting market growth
Predictions on critical supply, demand, and technological trends and changes in consumer behavior
Value chain analysis (list of manufacturers, distributors, end-users, average profitability margins, etc.)
Segment-wise, country-wise, and region-wise market analysis
Competition mapping, market share analysis, key strategies adopted by top players, and competitive tactical intelligence
Key product innovations and regulatory framework
Covid-19 impact on the market and how to navigate
Strategic market analysis and recommendations on crucial winning strategies
| | |
| --- | --- |
| Research Scope | Details |
| Forecast period | 2022-2032 |
| Historical data available for | 2017-2021 |
| Market analysis | USD Million for Value and Tons for Volume, and CAGR from 2022 to 2032 |
| Key regions covered | North America, Latin America, Europe, Asia-Pacific, Middle East, and Africa |
| Key countries covered | US, Canada, Brazil, Mexico, Germany, Italy, France, UK, Spain, Netherlands, Norway, Russia, China, Japan, South Korea, India, Indonesia, Thailand, Vietnam, Australia & New Zealand, Saudi Arabia, Turkey, UAE, South Africa, Nigeria, Egypt |
| Key segments covered | By Product, Solution, End-Use, and Region |
| Customization scope | Available upon Request |
| Pricing and purchase options | Available upon Request |
Report Includes

Market Size Data

Global market size data, historical (2018 to 2022) and forecast (2023 to 2033), by each segment and region
Regional level market size data, historical (2018 to 2022) and forecast (2023 to 2033), by each segment and country
Country level market share data, historical (2018 to 2022) and forecast (2023 to 2033), by each segment
Market attractiveness analysis based on market share index and CAGR index for each of the segments and regions
Incremental dollar opportunity generated in the forecast period would be indicated
Key Takeaways, Recommendations, and key investment pockets for the relevant segments would be highlighted

Market Background

Macroeconomic factors that impact the market developments
Market dynamics (Drivers, Restraints, Opportunities) that positively or negatively influence market growth
Supply Side and Demand Side trends – trends witnessed from buyers and suppliers side
Production and Consumption Gap Analysis – analysis of gap between production and consumption in any geography to fulfil unmet demand
Trade analysis and analysis of key supply and demand hubs
Identification of hotbed opportunities existing in the market
Porter's and PEST analysis to understand the business environment of the geography
Regulatory scenario – Identification of key sector specific and trade regulations, and assessment of whether it helps or hinder market development & growth

Pricing Analysis

Regional-level product pricing analysis to set and benchmark your current or future product offerings across each product type
Historical and projected pricing trends of the product which helps in determining the product's price and/or services beneficial for companies product lifecycle
Cost teardown analysis and key factors impacting pricing

Value Chain Analysis

Country-wise list of raw material suppliers

Raw material price trends and buyers' sentiment
Overview of Intelligent Sourcing Technique
Raw material procurement requirements
Vendor selection criteria

Country-wise list of product manufacturers
Country-wise list of distributors/traders
Country-wise list of end-users

End-Users/Customers consumption mapping
Key End-Users/Customers client list

Country-wise list of other key channel partners
Average profitability margins
Regional value chain dynamics

Competition Analysis

Market shares and production capacities of key players
Tier structure analysis of market
Comprehensive competition dashboard representing the top 10-15 players in the market
Individual company profiles of top 15 to 20 manufacturers

Business Overview
Product Portfolio
Key Financials
Recent Developments
SWOT Analysis
Strategies
Country Coverage
North America: U.S., Canada
Latin America: Brazil, Mexico, Argentina, Central America, Rest of Latin America
Western Europe: Germany, Italy, France, UK, Spain, Poland, Romania, Rest of Western Europe
Eastern Europe: Russia & Belarus, Balkan Countries, Baltic Countries, Central Asia, Rest of Eastern Europe
Middle East & Africa: KSA, UAE, Turkey, Israel, Northern Africa, South Africa, Rest of Middle East & Africa
East Asia: China, Japan, South Korea
South Asia & Pacific: India, ASEAN, Australia & New Zealand, Rest of South Asia & Pacific
Why Choose CVC Market Research?;
Specialized market research company
Impeccable and deep industry expertise
Wide range of offerings
Robust research methodology and statistical models with least deviation
Extensive reports and full-service consulting
Expert panel sanctioned industry outlook
Growth dynamics for calculated investments
Tri-level quality guarantee
6 months unlimited post-sales support
Regular planned and contracted report updates
Frequently Asked Questions
In the forecast period between 2022 and 2032, the market is expected to grow at a CAGR of 15.1%.
Increasing investments in the smart energy sector and falling solar PV costs are two of the key drivers propelling the market's expansion.
Major global Smart Solar Market players are ABB, Itron Inc., Aeris, Solnet Group, Aclara Technologies LLC, General Electric, Huawei Technologies Co., Ltd, Siemens, Landis+Gyr, Schneider Electric, HCL Technologies
The North America region is anticipated to account for the largest market revenue share in the Global Smart Solar market.