Sealants Market Size Analysis
According to a research survey conducted by ChemView Consulting, in 2022, the Global Sealants Market was worth US$ 11,798.0 Mn and is expected to grow at a CAGR of 5.6% over the forecast period. The market is expected to hit US$ 20,344.5 Mn by 2032 end. From 2017–2021, when the market's CAGR was 4.9%, the market underwent significant growth.
Sealants are primarily used to fill gaps and resist static displacements of substrates. Sealants are formulated with similar chemicals and technologies. They are used in many sectors, such as paper packaging, woodworking, footwear manufacturing, building & construction, and electrical & electronics.
Market Dynamic
THE GLOBALIZATION WILL BOOST THE INDUSTRY
The demand for sealants is driven by the increasing population and urbanization in emerging nations such as China, India, and Indonesia. There is a growing desire for permanent housing in these nations, fuelling the demand for sealants. The increasing necessity for electronic devices such as electronics components, laptops, and smartphones is projected to boost the European electronic industry's market expansion
STRINGENT GOVERNMENTAL REGULATIONS HAMPER THE MARKET GROWTH
The application of sealants emits an immense quantity of chemicals considered harmful and dangerous when inhaled. As regulations are becoming stricter, the industry is creating a new ecosystem. According to Emerald Performance Materials' Vice President, "The regulatory landscape is creating significant trials for the industry. Environment protection agencies such as the U.S Environmental Protection Agency are placing more hurdles and restrictions on manufacturers."
THE RISE OF URBANIZATION WILL CREATE AMPLE OF OPPORTUNITY
The building and construction industry has the most significant market share, with market demand rising as the sector grows. In response to the increasing demand for sealants and other concrete-related materials, the market area is expected to expand over the upcoming ten years. Adhesives are used in many applications, including flooring, glazing, walls, ceilings, and windows. This growth will support demand for adhesives across five key markets: sealant systems, adhesion promoters; construction resins; fireproofing agents; and formulation additives.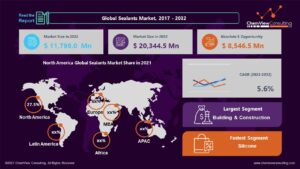 Market Segments Covered in Report
By Formulating Technology:
Water-based
Solvent-based
Hot-melt
Reactive & Others
By Application:
Paper & packaging
Building & construction
Woodworking
Consumer & DIY
Automotive & Transportation
Leather & Footwear
Assembly
Medical
Electronics
Others
By Resin Type:
Silicone
Polyurethane
Plastisol
Emulsion
Polysulfide
Butyl
Others
By End Use:
Building & Construction
Automotive & Transportation
Consumer
Others
By Region and Country:
North America (U.S., Canada)
Latin America (Brazil, Mexico, Rest of Latin America)
Europe (Germany, Italy, France, UK, Spain, Netherlands, Norway, Russia, Rest of Europe)
Asia-Pacific (China, Japan, South Korea, India, Indonesia, Thailand, Vietnam, Australia & New Zealand, Rest of Asia-Pacific)
Middle East (Saudi Arabia, Turkey, UAE, Rest of Middle East)
Africa (South Africa, Nigeria, Egypt, Rest of Africa)
Segment-Wise Analysis
Why are Building & Construction projected to have the highest market share in the Sealants market?
A major share in the sealants market is taken by the building & construction segment, which comprises the majority of sealing applications. In several applications, sealants also function as adhesives. For example, in structural glazing on glass-walled buildings. Sealants do not have high tensile strength like adhesives but have superior durability and dependability when subjected to conditions of chemical attack, high humidity, or electrical stress.
Why is the Silicon Sealant segment most frequently used in various applications?
The global silicone sealants market is assessed based on type and application and further categorized into silicone, modified silane polymer (MS), polyurethane (PU), polyvinyl acetate (PVA), epoxy, acrylic, and others such as cyanoacrylate, styrenic block, and others. Silicone sealants are widely used sealant that is used to protect electrical equipment against moisture, dust, dirt, and other contaminants. The industry is estimated to register a massive growth rate during the forecasted period primarily due to the growing demand for electrical and electronic products in both mature and developing countries.
Region-Wise Analysis
The regions analyzed for the market include North America, Europe, Latin America, Asia Pacific, Middle East, and Africa.
The Asia-Pacific region dominated the global market share by more than 39.9%. With a CAGR Of 6.3%. The increasing demand from industries such as construction, packaging, and electronics in the countries such as China, India, and Japan will continue to drive the need for adhesives in packaging applications. The food and beverage industry has shown remarkable growth as it innovates new products, increases production, and resorts to attractive packaging materials to attract customers.
The leading North American adhesives and sealants market is anticipated to show positive growth from 2022 to 2032. The North American region has the 2nd largest global market share, more than 27.5%. North American adhesives and sealants market growth will be pronounced with a notable trend for flexible packaging. Moreover, a noteworthy shift toward recyclable products across the U.S. and Canada will bode well for major companies gearing to propel their regional footprint
Competition Analysis
The global adhesives & sealants market is characterized by medium and large producers, which have local and international companies. The fast-paced growth of silicone sealants and the emergence of silicone sealant market players have contributed to the tremendous increase in the sales of silicone sealants among the global industrial segments.
Market shares by leading manufacturers have also grown considerably over the years. Features such as oil & gas, construction and maintenance, transportation, and others have adopted this product as a preferred sealant. The surge in demand for sealing and bonding materials has been driven by strategic investments by key players in their manufacturing facilities and growth in digitalization and connectivity across global markets.
Some of the key developments that have taken place in the Sealants Market include:
In February 2022, Arkema finalized the acquisition of Ashland's Performance Adhesives business to boost the adhesive solution portfolio.
In March 2021, DriTac was acquired by American adhesive maker Sika Inc.
A list of some of the key suppliers present in the market are:
3M Company
Ashland Inc.
Avery Denison Corporation
H B Fuller
Henkel AG
Sika AG
Pidilite Industries
Huntsman
Wacker Chemie AG
RPM International Inc.
Global Sealants Market 2022-2032: Report Coverage and Highlights
Assessment of the historical and current market size (2017-2021), market projections (2022-2032), and its contribution to the parent market
Key drivers, restraints, opportunities, and key emerging trends impacting market growth
Predictions on critical supply, demand, and technological trends and changes in consumer behavior
Value chain analysis (list of manufacturers, distributors, end-users, average profitability margins, etc.)
Segment-wise, country-wise, and region-wise market analysis
Competition mapping, market share analysis, key strategies adopted by top players, and competitive tactical intelligence
Key product innovations and regulatory framework
Covid-19 impact on the market and how to navigate
Strategic market analysis and recommendations on crucial winning strategies
| | |
| --- | --- |
| Research Scope | Details |
| Forecast period | 2022-2032 |
| Historical data available for | 2017-2021 |
| Market analysis | USD Million for Value and Tons for Volume, and CAGR from 2022 to 2032 |
| Key regions covered | North America, Latin America, Europe, Asia-Pacific, Middle East, and Africa |
| Key countries covered | US, Canada, Brazil, Mexico, Germany, Italy, France, UK, Spain, Netherlands, Norway, Russia, China, Japan, South Korea, India, Indonesia, Thailand, Vietnam, Australia & New Zealand, Saudi Arabia, Turkey, UAE, South Africa, Nigeria, Egypt |
| Key segments covered | By Formulating Technology, Application, Resin Type, End-Use,  and Region |
| Customization scope | Available upon Request |
| Pricing and purchase options | Available upon Request |
Report Includes

Market Size Data

Global market size data, historical (2018 to 2022) and forecast (2023 to 2033), by each segment and region
Regional level market size data, historical (2018 to 2022) and forecast (2023 to 2033), by each segment and country
Country level market share data, historical (2018 to 2022) and forecast (2023 to 2033), by each segment
Market attractiveness analysis based on market share index and CAGR index for each of the segments and regions
Incremental dollar opportunity generated in the forecast period would be indicated
Key Takeaways, Recommendations, and key investment pockets for the relevant segments would be highlighted

Market Background

Macroeconomic factors that impact the market developments
Market dynamics (Drivers, Restraints, Opportunities) that positively or negatively influence market growth
Supply Side and Demand Side trends – trends witnessed from buyers and suppliers side
Production and Consumption Gap Analysis – analysis of gap between production and consumption in any geography to fulfil unmet demand
Trade analysis and analysis of key supply and demand hubs
Identification of hotbed opportunities existing in the market
Porter's and PEST analysis to understand the business environment of the geography
Regulatory scenario – Identification of key sector specific and trade regulations, and assessment of whether it helps or hinder market development & growth

Pricing Analysis

Regional-level product pricing analysis to set and benchmark your current or future product offerings across each product type
Historical and projected pricing trends of the product which helps in determining the product's price and/or services beneficial for companies product lifecycle
Cost teardown analysis and key factors impacting pricing

Value Chain Analysis

Country-wise list of raw material suppliers

Raw material price trends and buyers' sentiment
Overview of Intelligent Sourcing Technique
Raw material procurement requirements
Vendor selection criteria

Country-wise list of product manufacturers
Country-wise list of distributors/traders
Country-wise list of end-users

End-Users/Customers consumption mapping
Key End-Users/Customers client list

Country-wise list of other key channel partners
Average profitability margins
Regional value chain dynamics

Competition Analysis

Market shares and production capacities of key players
Tier structure analysis of market
Comprehensive competition dashboard representing the top 10-15 players in the market
Individual company profiles of top 15 to 20 manufacturers

Business Overview
Product Portfolio
Key Financials
Recent Developments
SWOT Analysis
Strategies
Country Coverage
North America: U.S., Canada
Latin America: Brazil, Mexico, Argentina, Central America, Rest of Latin America
Western Europe: Germany, Italy, France, UK, Spain, Poland, Romania, Rest of Western Europe
Eastern Europe: Russia & Belarus, Balkan Countries, Baltic Countries, Central Asia, Rest of Eastern Europe
Middle East & Africa: KSA, UAE, Turkey, Israel, Northern Africa, South Africa, Rest of Middle East & Africa
East Asia: China, Japan, South Korea
South Asia & Pacific: India, ASEAN, Australia & New Zealand, Rest of South Asia & Pacific
Why Choose CVC Market Research?;
Specialized market research company
Impeccable and deep industry expertise
Wide range of offerings
Robust research methodology and statistical models with least deviation
Extensive reports and full-service consulting
Expert panel sanctioned industry outlook
Growth dynamics for calculated investments
Tri-level quality guarantee
6 months unlimited post-sales support
Regular planned and contracted report updates
Frequently Asked Questions
In the forecast period between 2022 and 2032, the market is expected to grow at a CAGR of 5.6%.
The ever-evolving manufacturing process has forced the sealants market to improve continuously. The increasing potential applications of sealants in several end-use sectors such as building & construction, electrical & electronics, aerospace & aviation, automotive, and others are the key factors boosting the sealants market growth.
Major global Sealants Market players are 3M Company, Ashland Inc., Avery Denison Corporation, H B Fuller, Henkel AG, Sika AG, Pidilite Industries, Huntsman, Wacker Chemie AG, and RPM International Inc.
Tightness in the silicone supply of raw materials and a spike in the prices of raw materials continue to suppress the silicone sealants market, and leading players are incorporating vertical integration to manufacture raw materials at their facilities.
The Asia Pacific region is expected to account for the largest market revenue share in the Global Sealants market.