Preparation Abrasives Market nalysis
According to a recent survey conducted by ChemView Consulting, the Global Preparation Abrasives Market grew at a CAGR of 3.8% between 2017-2021 and is estimated to be US$ 5,876.9 Mn in 2022. Currently, the market is anticipated to grow at a CAGR of 4.2% and is expected to reach a valuation of US$ 8,868.0 Mn by 2032 end.
Materials called abrasives are employed to remove wood, concrete, ceramic, stone, or minerals. These materials offer a refined, completed appearance. The method frequently polishes materials to obtain a smooth, shiny surface. These items give fabrics with matte, satin, or beaded finishes a rougher texture.
The market is expected to increase due to using these materials in tools such as sandpapers, grinding wheels, polishes, honing stones, tumbling and vibratory mass-finishing media, pulp stones, sandblasting, ball mills, and other similar products. The building sector is going through enormous and unheard-of changes supported by economic expansion, which in turn is raising product demand.
Market Dynamic
INCREASING DEMAND FROM THE AUTOMOTIVE INDUSTRY TO AID MARKET GROWTH
The product is used to repair auto bodies, size engine parts, and clean the interior and outside of vehicles. These items are also used to clean the interior of pipes, welds, edges, and surfaces that will be painted, polished, fitted or cleaned. While grinding wheels are used for cars, coated and non-woven goods refinish auto bodywork. The high demand from various applications directly supports the growth of the automotive sector.
Several abrasive products are employed for non-engine parts and accessories including brakes, steering wheels, wheels, and axles. Brakes have a unique abrasive with a non-directional scratch pattern to gather tools. The brake screech is removed, and heat-sensitive metals' discoloration is decreased. The interior and outside of cars are prepared and polished with abrasive sandpaper. Additionally, it is anticipated that the market would be severely impacted by the escalating raw material price variations and the state of the economy.
LACK OF RAW MATERIAL AVAILABILITY AND STRINGENT REGULATIONS TO HAMPER MARKET
Aluminum oxide, silicon carbide, cubic boron nitride, synthetic diamond, and ceramics are the basic abrasive materials most frequently used. These raw materials are derived from regenerative resources, like petroleum. The supply of raw materials decreases due to the depletion of these resources, which limits market expansion. Governments have also imposed strict limits on this commodity's usage as a response to growing concerns over environmental protection and halting the spread of pollution, which has hampered market expansion.
GROWING APPLICATION OF ABRASIVES FOR CONSTRUCTION ACTIVITIES TO CREATE GROWTH OPPORTUNITIES
The main product application throughout the forecast period is anticipated to be constructed. Due to rising urbanization and improved lifestyles, there has been an upsurge in construction activities. Market development is further aided by high levels of renovation activity and economic growth in developing nations. These goods are employed in the construction sector for various purposes, including metal fabrications, components, and woodworking & fabrication.
The building business is expanding dramatically in developing nations like China, India, Japan, and other Asian countries. Due to the increase in residential construction, the expanding population in these nations has favored product consumption.
COVID-19 Impact
The effects of the pandemic were felt in every industry, including machinery, metalworking, and the automotive. Large-scale Chinese manufacturing exports have caused disruptions. The lockdown in the United States has also led to plant closures, exerting even more severe pressure on the global supply base and putting businesses and customers in danger. The pandemic has caused a shift in the supply chain worldwide, impacting metalworking, industrial, automotive, and other industries. In turn, this is upsetting the market and driving a downward change in product demand.
Abrasives are frequently discovered in nature through the extraction process underground, including aluminum oxide, silicon carbide, boron nitride, and others. Mining operations have been impacted, which has further impacted product demand. Government restrictions on producing raw materials and the shutdown of the manufacturing industry limit market expansion. With the decrease in the number of cases and market is back on the rise again.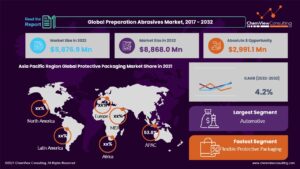 Market Segments Covered in Report
By Material:
By Product Type:
By Application:
Automotive
Electrical & Electronics
Metal Fabrication
Machinery
Others
By Region and Country:
North America (U.S., Canada)
Latin America (Brazil, Mexico, Rest of Latin America)
Europe (Germany, Italy, France, UK, Spain, Netherlands, Norway, Russia, Rest of Europe)
Asia-Pacific (China, Japan, South Korea, India, Indonesia, Thailand, Vietnam, Australia & New Zealand, Rest of Asia-Pacific)
Middle East (Saudi Arabia, Turkey, UAE, Rest of Middle East)
Africa (South Africa, Nigeria, Egypt, Rest of Africa)
Segment-Wise Analysis
Why is coated segment expected to generate the highest revenue?
The coated sector maintained the largest market share for abrasives. Grain, a backing material, and bonding adhesive make up the covered section.
These elements give the product a distinctive quality that suits it for various uses. Segment growth will be fueled by coated abrasives in consumer goods, fabrication, hand and power tools, general engineering, furniture, and surgical devices.
Why is the automotive segment expected to expand the fastest during the forecast period?
In 2021, the automotive and transportation sector had the highest revenue share—more than 35.0%. Abrasives are utilized in the automotive industry for various tasks, including coarse and lacquer sanding. To improve the surface finish of automobile components, super abrasives—in the form of diamond discs—are also favored for grinding and polishing.
Region-Wise Analysis
The regions analyzed for the market include North America, Europe, Latin America, Asia Pacific, Middle East, and Africa.
The greatest revenue share of more than 53.8% was accounted for by the Asia Pacific, which led the global market. The regional market will experience the fastest CAGR between 2022 and 2032 as it continues to grow. Throughout the projection period, market growth is anticipated to be driven by improvements in infrastructure, increased manufacturing sector investments, and an increase in EV production in the region's developing economies.
Due to the increasing product demand from the automotive and, aerospace & military industries, North America is predicted to experience consistent expansion over the next years.
Competition Analysis
Due to the existence of several small- and large-scale businesses, the global market is extremely competitive and fragmented. Companies are implementing a number of strategic efforts to reduce their losses and achieve a competitive advantage.
These actions have enabled market participants to increase their clientele and revenue. With the increasing demand for Preparation Abrasives in the worldwide industry, market players in the Preparation Abrasives market can anticipate attractive growth prospects in the future.
Some of the key developments that have taken place in the Preparation Abrasives Market include:
In February 2022, a deal to buy the entire stock of RHODIUS Abrasives was announced by Carborundum Universal Ltd. (CUMI) through its German subsidiary CUMI Abrasives GmbH. The company's geographic reach is anticipated to increase due to this acquisition.
In December 2020, the NIPSEA Group company Nippon Paint India announced the extension of its Range n-Force product line to provide best-in-class solutions for the automobile sector. The n-Force line includes rubbing compounds, waxes & polishes, and abrasives. With this introduction, Nippon Paint is anticipated to become a one-stop shop for customers in the car aftermarket sector.
In September 2020, Ali with this acquisition, Ali Industries will add abrasives to its array of patch, repair, and cleaning solutions. Industries, LLC, a producer of sandpaper, was purchased by RPM International Inc., expanding its surface preparation capabilities while offering a top-notch product sector.
A list of some of the key suppliers present in the market are:
The 3M Company
Saint-Gobain
Krebs & Riedel
Asahi Diamond Industrial Co., Ltd.
Robert Bosch GmbH
Fujimi Incorporated
Henkel AG & Co. KGaA
Carborundum Universal Limited
NIPPON RESIBON CORPORATION
KWH Mirka
NORITAKE CO., LIMITED
Report Coverage and Highlights
Our comprehensive, data-backed, and facts-oriented report provides niche and cross-sectional analysis at global and country levels.
Assessment of the historical (actual data) and current market size (2017-2021), market projections (2022-2032), and CAGR.
The market assessment across North America, Europe, East Asia, South Asia & Pacific, Latin America, Middle East, and Africa.
Competitive tactical intelligence, key strategies adopted by top players, production capacity and company shares analysis, product brand surveys, and export-import analysis
Pricing analysis to set and benchmark your current or future offerings across each product type helps you understand whether your pricing strategy is aligned with market expectations and can be compared to market disruptions.
Predictions on critical supply and demand trends and technological expertise needed to address operations scalability.
Consumer behavior shifts and their implications for players, list of end-users, and their consumption analysis.
Key drivers, restraints, opportunities, and emerging trends impacting the market growth.
Value chain analysis (list of manufacturers, distributors, end-users, and average profitability margins).
Strategic market analysis, recommendations, and future headways on crucial winning strategies.
| | |
| --- | --- |
| Research Scope | Details |
| Forecast period | 2022-2032 |
| Historical data available for | 2017-2021 |
| Market analysis | USD Million for Value and Tons for Volume, and CAGR from 2022 to 2032 |
| Key regions covered | North America, Latin America, Europe, Asia-Pacific, Middle East, and Africa |
| Key countries covered | US, Canada, Brazil, Mexico, Germany, Italy, France, UK, Spain, Netherlands, Norway, Russia, China, Japan, South Korea, India, Indonesia, Thailand, Vietnam, Australia & New Zealand, Saudi Arabia, Turkey, UAE, South Africa, Nigeria, Egypt |
| Key segments covered | By Material, Product Type, Application, and Region |
| Customization scope | Available upon Request |
| Pricing and purchase options | Available upon Request |
Report Includes

Market Size Data

Global market size data, historical (2018 to 2022) and forecast (2023 to 2033), by each segment and region
Regional level market size data, historical (2018 to 2022) and forecast (2023 to 2033), by each segment and country
Country level market share data, historical (2018 to 2022) and forecast (2023 to 2033), by each segment
Market attractiveness analysis based on market share index and CAGR index for each of the segments and regions
Incremental dollar opportunity generated in the forecast period would be indicated
Key Takeaways, Recommendations, and key investment pockets for the relevant segments would be highlighted

Market Background

Macroeconomic factors that impact the market developments
Market dynamics (Drivers, Restraints, Opportunities) that positively or negatively influence market growth
Supply Side and Demand Side trends – trends witnessed from buyers and suppliers side
Production and Consumption Gap Analysis – analysis of gap between production and consumption in any geography to fulfil unmet demand
Trade analysis and analysis of key supply and demand hubs
Identification of hotbed opportunities existing in the market
Porter's and PEST analysis to understand the business environment of the geography
Regulatory scenario – Identification of key sector specific and trade regulations, and assessment of whether it helps or hinder market development & growth

Pricing Analysis

Regional-level product pricing analysis to set and benchmark your current or future product offerings across each product type
Historical and projected pricing trends of the product which helps in determining the product's price and/or services beneficial for companies product lifecycle
Cost teardown analysis and key factors impacting pricing

Value Chain Analysis

Country-wise list of raw material suppliers

Raw material price trends and buyers' sentiment
Overview of Intelligent Sourcing Technique
Raw material procurement requirements
Vendor selection criteria

Country-wise list of product manufacturers
Country-wise list of distributors/traders
Country-wise list of end-users

End-Users/Customers consumption mapping
Key End-Users/Customers client list

Country-wise list of other key channel partners
Average profitability margins
Regional value chain dynamics

Competition Analysis

Market shares and production capacities of key players
Tier structure analysis of market
Comprehensive competition dashboard representing the top 10-15 players in the market
Individual company profiles of top 15 to 20 manufacturers

Business Overview
Product Portfolio
Key Financials
Recent Developments
SWOT Analysis
Strategies
Country Coverage
North America: U.S., Canada
Latin America: Brazil, Mexico, Argentina, Central America, Rest of Latin America
Western Europe: Germany, Italy, France, UK, Spain, Poland, Romania, Rest of Western Europe
Eastern Europe: Russia & Belarus, Balkan Countries, Baltic Countries, Central Asia, Rest of Eastern Europe
Middle East & Africa: KSA, UAE, Turkey, Israel, Northern Africa, South Africa, Rest of Middle East & Africa
East Asia: China, Japan, South Korea
South Asia & Pacific: India, ASEAN, Australia & New Zealand, Rest of South Asia & Pacific
Why Choose CVC Market Research?;
Specialized market research company
Impeccable and deep industry expertise
Wide range of offerings
Robust research methodology and statistical models with least deviation
Extensive reports and full-service consulting
Expert panel sanctioned industry outlook
Growth dynamics for calculated investments
Tri-level quality guarantee
6 months unlimited post-sales support
Regular planned and contracted report updates
Frequently Asked Questions
In the forecast period between 2022 and 2032, the market is expected to grow at a CAGR of 4.2%.
An increase in demand from the automotive sector will help the market expand.
Major global Preparation Abrasives Market players are The 3M Company, Saint-Gobain, Krebs & Riedel, Asahi Diamond Industrial Co., Ltd., Robert Bosch GmbH, Fujimi Incorporated, Henkel AG & Co. KGaA, Carborundum Universal Limited, NIPPON RESIBON CORPORATION, KWH Mirka, NORITAKE CO., LIMITED
Lack of raw material availability and stringent regulations hamper the market.
The Asia Pacific Region is expected to account for the largest market revenue share in the Global Preparation Abrasives market.