Light Towers Market Size Analysis
According to a research survey conducted by ChemView Consulting, in 2022, the Global Light Towers Market was worth US$ 3,498.6 Mn and is expected to grow at a CAGR of 5.9% over the forecast period. The market is expected to hit US$ 6,206.6 Mn by 2032 end. From 2017–2021, when the market's CAGR was 4.8%, the market underwent significant growth.
Portable light towers are used for emergencies where there's no other light source. The mobile light towers offer superior illumination at the right time, at night, or in a dark place where the eye needs help to see.
Market Dynamic
THE GROWTH IN THE CONSTRUCTION INDUSTRY DRIVES THE MARKET
The global light towers market is projected to exhibit substantial growth during the forecast period because of rising construction activities, the rising need for proper lighting in remote locations, and the increasing need for adequate lighting by the building and construction sectors. A growing number of road accidents is also encouraging the global markets. Various nations' governments introduced stringent environmental degradation regulations and protection regulations to control the emission rate.
STRINGENT GOVERNMENTAL REGULATIONS HELP THE MARKET GROWTH
The increasing frequency of fatalities, particularly during night-time operations, and the availability of several resistant & tough mobile equipment equipped with enhanced quality standards are key factors encouraging the product installation. From this perspective, the government is approving projects that would foster the development of these markets. In addition, the growing demands for modernization and refurbishment of the existing infrastructure to stimulate the product demand and supply chain are also encouraging this market to grow faster.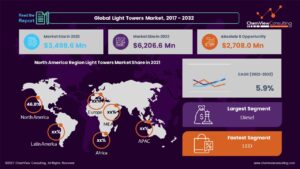 Market Segments Covered in Report
By Type :
LED Light Tower
Metal Halid Light Tower
By Power Source :
Solar Powered
Diesel Powered
Hydrogen Fuel Powered
Directly Powered
By End-user Industry :
Construction
Oil & Gas
Mining
Industrial
Other End-user Industries
By Region and Country:
North America (U.S., Canada)
Latin America (Brazil, Mexico, Rest of Latin America)
Europe (Germany, Italy, France, UK, Spain, Netherlands, Norway, Russia, Rest of Europe)
Asia-Pacific (China, Japan, South Korea, India, Indonesia, Thailand, Vietnam, Australia & New Zealand, Rest of Asia-Pacific)
Middle East (Saudi Arabia, Turkey, UAE, Rest of Middle East)
Africa (South Africa, Nigeria, Egypt, Rest of Africa)
Segment-Wise Analysis
Why are LED Light Tower accounts for the largest market share?
LED Light Towers utilize LED lamps to illuminate various locations. They rely on a solid-state design that ensures its sturdiness under extreme working conditions. Compared to metal halide towers, their better ability to save light and their low wattage requirements means that they produce more lumens for the same system cost than the Metal Halide Towers. One could save up to 40% of electricity consumption if one switches from HID to LED lights in a building.
Why are solar-powered light towers becoming more common?
In the years to come, solar power will gain traction as it becomes more affordable. The increasing demand for lights indicates the growing attention from investors toward renewable energy sources worldwide. With advanced technology, light towers can be operated without dependence on diesel, batteries, or other power sources. Light tower systems powered by solar energy greatly contribute to a greener environment.
Region-Wise Analysis
The regions analyzed for the market include North America, Europe, Latin America, Asia Pacific, Middle East, and Africa.
North America held the largest share of the Light Towers Market in 2021, up to 46.8%. North America is expected to be the world's largest market for light tower sales. This is due to strong construction, oil & gas, and mining growth. Solar-based light towers have gained popularity recently, and key players are increasingly targeting North America from a target market perspective.
The energy transition is underway, with the developing world producing most of the world's CO₂ emissions and having great demand for energy-related services. Much of this increase in energy consumption is focused in developing regions of Asia (India, China, and others), where increasing prosperity and improving living standards support growing energy consumption per head.
Competition Analysis
Some of the key developments that have taken place in the Light Towers Market include:
On October 2020, Doosan Corporation and Ceres Power Holdings plc, leaders in fuel cell and electrochemical technology, established a partnership and license agreements. These include constructing a 50MW first mass manufacturing plant in South Korea to produce fuel cell stacks manufactured under license from Ceres.
In August 2021, With the acquisition of a new structure, Generac Power Systems declared the extension of its corporate operations into the Village of Pewaukee. The new website will act as the business's customer service hotline and assist with inquiries related to light tower items.
A list of some of the key suppliers present in the market are:
Atlas Copco AB
Chicago Pneumatic
Terex Corporation
Generac Power Systems, Inc.
Larson Electronics LLC
Doosan Portable Power
Colorado Standby
Westquip Diesel Sales
Wacker Neuson Group
Youngman Richardson & Co. Ltd.
Global Light Towers Market 2022-2032: Report Coverage and Highlights
Assessment of the historical and current market size (2017-2021), market projections (2022-2032), and its contribution to the parent market
Key drivers, restraints, opportunities, and key emerging trends impacting market growth
Predictions on critical supply, demand, and technological trends and changes in consumer behavior
Value chain analysis (list of manufacturers, distributors, end-users, average profitability margins, etc.)
Segment-wise, country-wise, and region-wise market analysis
Competition mapping, market share analysis, key strategies adopted by top players, and competitive tactical intelligence
Key product innovations and regulatory framework
Covid-19 impact on the market and how to navigate
Strategic market analysis and recommendations on crucial winning strategies
| | |
| --- | --- |
| Research Scope | Details |
| Forecast period | 2022-2032 |
| Historical data available for | 2017-2021 |
| Market analysis | USD Million for Value and Tons for Volume, and CAGR from 2022 to 2032 |
| Key regions covered | North America, Latin America, Europe, Asia-Pacific, Middle East, and Africa |
| Key countries covered | US, Canada, Brazil, Mexico, Germany, Italy, France, UK, Spain, Netherlands, Norway, Russia, China, Japan, South Korea, India, Indonesia, Thailand, Vietnam, Australia & New Zealand, Saudi Arabia, Turkey, UAE, South Africa, Nigeria, Egypt |
| Key segments covered | By Type, Power Source, End-user Industry,  and Region |
| Customization scope | Available upon Request |
| Pricing and purchase options | Available upon Request |
Report Includes

Market Size Data

Global market size data, historical (2018 to 2022) and forecast (2023 to 2033), by each segment and region
Regional level market size data, historical (2018 to 2022) and forecast (2023 to 2033), by each segment and country
Country level market share data, historical (2018 to 2022) and forecast (2023 to 2033), by each segment
Market attractiveness analysis based on market share index and CAGR index for each of the segments and regions
Incremental dollar opportunity generated in the forecast period would be indicated
Key Takeaways, Recommendations, and key investment pockets for the relevant segments would be highlighted

Market Background

Macroeconomic factors that impact the market developments
Market dynamics (Drivers, Restraints, Opportunities) that positively or negatively influence market growth
Supply Side and Demand Side trends – trends witnessed from buyers and suppliers side
Production and Consumption Gap Analysis – analysis of gap between production and consumption in any geography to fulfil unmet demand
Trade analysis and analysis of key supply and demand hubs
Identification of hotbed opportunities existing in the market
Porter's and PEST analysis to understand the business environment of the geography
Regulatory scenario – Identification of key sector specific and trade regulations, and assessment of whether it helps or hinder market development & growth

Pricing Analysis

Regional-level product pricing analysis to set and benchmark your current or future product offerings across each product type
Historical and projected pricing trends of the product which helps in determining the product's price and/or services beneficial for companies product lifecycle
Cost teardown analysis and key factors impacting pricing

Value Chain Analysis

Country-wise list of raw material suppliers

Raw material price trends and buyers' sentiment
Overview of Intelligent Sourcing Technique
Raw material procurement requirements
Vendor selection criteria

Country-wise list of product manufacturers
Country-wise list of distributors/traders
Country-wise list of end-users

End-Users/Customers consumption mapping
Key End-Users/Customers client list

Country-wise list of other key channel partners
Average profitability margins
Regional value chain dynamics

Competition Analysis

Market shares and production capacities of key players
Tier structure analysis of market
Comprehensive competition dashboard representing the top 10-15 players in the market
Individual company profiles of top 15 to 20 manufacturers

Business Overview
Product Portfolio
Key Financials
Recent Developments
SWOT Analysis
Strategies
Country Coverage
North America: U.S., Canada
Latin America: Brazil, Mexico, Argentina, Central America, Rest of Latin America
Western Europe: Germany, Italy, France, UK, Spain, Poland, Romania, Rest of Western Europe
Eastern Europe: Russia & Belarus, Balkan Countries, Baltic Countries, Central Asia, Rest of Eastern Europe
Middle East & Africa: KSA, UAE, Turkey, Israel, Northern Africa, South Africa, Rest of Middle East & Africa
East Asia: China, Japan, South Korea
South Asia & Pacific: India, ASEAN, Australia & New Zealand, Rest of South Asia & Pacific
Why Choose CVC Market Research?;
Specialized market research company
Impeccable and deep industry expertise
Wide range of offerings
Robust research methodology and statistical models with least deviation
Extensive reports and full-service consulting
Expert panel sanctioned industry outlook
Growth dynamics for calculated investments
Tri-level quality guarantee
6 months unlimited post-sales support
Regular planned and contracted report updates
Frequently Asked Questions
In the forecast period between 2022 and 2032, the market is expected to grow at a CAGR of 5.9%.
The global light tower market is expected to witness increasing demand for light towers in the years to come. Moreover, these towers are environmentally friendly and require a one-time set-up cost, which is an advantage for the manufacturers and consumers. The increasing number of oil inventories and processing plants will drive demand for these towers shortly.
Major global Light Towers Market players are Atlas Copco AB, Chicago Pneumatic, Terex Corporation, Generac Power Systems, Inc., Larson Electronics LLC, Doosan Portable Power, Colorado Standby, Westquip Diesel Sales, Wacker Neuson Group, Youngman Richardson & Co. Ltd.
The Asia Pacific region is expected to account for the largest market revenue share in the Global Light Towers market.