Floor Displays Market Size Analysis
According to a recent survey conducted by ChemView Consulting, the Global Floor Displays Market grew at a CAGR of 5.0% between 2017-2021 and is estimated to be US$ 3,040.8 Mn in 2022. Currently, the market is anticipated to grow at a CAGR of 5.9 % and is expected to reach a valuation of US$ 5,394.5 Mn by 2032 end.
Floor displays are popular for their flexibility and durability. Floor displays provide an excellent opportunity for manufacturers to explore the benefits of merchandising innovations that can be used across various product categories.
Market Dynamic
GROWING DEMAND FOR ELECTRONICS DRIVES THE MARKET FOR FLOOR DISPLAYS
The display component business has spawned far bigger, more leveraged companies that make and sell display-centric electronic goods. The adoption of displays will be fuelled by rising demand for consumer devices such as smartphones, televisions, and laptops, as well as increased internet penetration. Other elements driving greater market demand include the government's drive for electronics production and the country's expanding digitalization.
DROP IN DEMAND FOR DISPLAYS IN THE RETAIL SECTOR RESTRICT THE MARKET GROWTH
With digital advertising, merchants can reach their audience on a global scale and increase their revenue stream. With the advancement in technology, online shopping has become more convenient and convenient for shoppers. Furthermore, the internet has developed into an all-purpose platform for consumers to gather information about products and read about reviews and product comparisons before buying them. Thus, digital advertising has been proven to be one of the most effective ways for merchants to engage with consumers. As a result, more businesses are shifting their focus toward digital advertising to market their products and services online.
THE RISE IN AUTOMATED EQUIPMENT PROJECTS WILL CREATE MORE OPPORTUNITIES FOR THE MARKET
Organic light-emitting diodes and liquid crystal displays (OLEDs) are the most promising displays due to their long life, extensive brightness range, huge color gamut, and high refresh rates. The reason behind this is that OLEDs use no backlight. Moreover, these displays can be made thin, flexible, and transparent. While manufacturers have already started producing ready-made OLED panels for mobile phones and other products, one way or another, these displays will also have to make their presence felt in front of Digital Wall Screens.
COVID-19 Impact
The coronavirus has hurt the expansion of utility applications. The installation of Floor Displays systems was declining in 2021, with rising costs associated with the lack of technical support and fixed-time delivery deadlines.
Additionally, the worldwide closure of production facilities in 2020's first and second quarters is to blame for slowing the market's expansion. However, it is anticipated that the adoption of technology, therefore, the Floor Displays systems will expand due to the growing installation of Floor Displays systems in operational projects.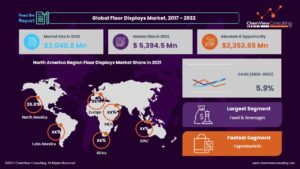 Market Segments Covered in Report
By Material Type :
Corrugated Board
Foam Board
Plastic Sheet
Glass
Metal
By Application :
Hyper Market
Supermarket
Departmental store
Speciality Store
Convenience Store
Other Retail Applications
By Packaging Format :
Food & Beverages
Cosmetics & Personal Care
Pharmaceuticals
Printing & Stationary
Electronics
Automotive
Others Packaging Format
By Region and Country:
North America (U.S., Canada)
Latin America (Brazil, Mexico, Rest of Latin America)
Europe (Germany, Italy, France, UK, Spain, Netherlands, Norway, Russia, Rest of Europe)
Asia-Pacific (China, Japan, South Korea, India, Indonesia, Thailand, Vietnam, Australia & New Zealand, Rest of Asia-Pacific)
Middle East (Saudi Arabia, Turkey, UAE, Rest of Middle East)
Africa (South Africa, Nigeria, Egypt, Rest of Africa)
Segment-Wise Analysis
Why are convenience stores projected to ensure the most revenue during the forecast period?
The convenience store segment will likely contribute to more than 33.0% of global market revenue by exploiting the high margin and switching demand in the POP display. Currently, manufacturers are adopting FIFO (First In, First Out) technology for POP display manufacture. But this method does not allow manufacturers to produce high-quality products due to the expensive consumables required for the FITO process. Hence, we expect that manufacturers can opt for other production methods, such as direct laser cutting and vacuum forming, which will help reduce many of their investment costs. On the other hand, retailers can also quickly adopt these new methods to improve supply chain management processes and minimize costs.
Which Material type is expected to expand the fastest during the forecast period?
In 2021, Corrugated board will be the most commonly used raw material in producing POP displays due to its low cost. Plastic, metal, and other materials are also used for promotional purposes. Prices of natural materials such as corrugated boards and plastics are constantly on the rise. For instance, due to COVID-19, Kraft paper prices rose by ~23.0%, owing to short supply led by intermittent closure of production units. This hampered the growth of the floor POP display market.
Region-Wise Analysis
The regions analyzed for the market include North America, Europe, Latin America, Asia Pacific, Middle East, and Africa.
In 2021, the North American market held a sizeable revenue share of 26.8%. The North American floor display industry is anticipated to maintain its dominance in the global market throughout the forecast period. The region has a well-established presence in the worldwide floor displays market, with a competitive advantage over competitors such as India and China. In terms of revenue, North America is anticipated to remain the dominant region throughout the forecast period.
The floor displays industry is expected to be driven largely by the new launch of fast food chains and a growing corporate culture. Demand for fast food in a range of foods is expected to drive demand in the Europe floor displays market, while an active schedule that includes leisure activities will be another trend.
Competition Analysis
Major businesses are diversifying their product offerings through organic and inorganic development strategies to strengthen their market position.
Some of the key developments that have taken place in the Floor Displays Market include:
In February 2020, Meta® CD Case Displays, the newest floor displays from Westrock, were introduced. With top, side, or bottom loading of the product, the shipper swiftly transforms it into a shelf or floor displays carton that conveys the brand message.
In March 2021, Floor displays were introduced by Smurfit Kappa. A consumer will shop from dump bins, floor-standing open display containers stocked with little, loose goods. Used frequently for marketing purposes.
A list of some of the key suppliers present in the market are:
Sonoco Products Company
DS Smith Plc
Smurfit Kappa Group PLC
Georgia-Pacific LLC
WestRock Company
FFR Merchandising Company
S. Corrugated Inc.
Marketing Alliance Group
Creative Displays Now
Pratt Industries Inc
Report Coverage and Highlights
Our comprehensive, data-backed, and facts-oriented report provides niche and cross-sectional analysis at global and country levels.
Assessment of the historical (actual data) and current market size (2017-2021), market projections (2022-2032), and CAGR.
The market assessment across North America, Europe, East Asia, South Asia & Pacific, Latin America, Middle East, and Africa.
Competitive tactical intelligence, key strategies adopted by top players, production capacity and company shares analysis, product brand surveys, and export-import analysis
Pricing analysis to set and benchmark your current or future offerings across each product type helps you understand whether your pricing strategy is aligned with market expectations and can be compared to market disruptions.
Predictions on critical supply and demand trends and technological expertise needed to address operations scalability.
Consumer behavior shifts and their implications for players, list of end-users, and their consumption analysis.
Key drivers, restraints, opportunities, and emerging trends impacting the market growth.
Value chain analysis (list of manufacturers, distributors, end-users, and average profitability margins).
Strategic market analysis, recommendations, and future headways on crucial winning strategies.
| | |
| --- | --- |
| Research Scope | Details |
| Forecast period | 2022-2032 |
| Historical data available for | 2017-2021 |
| Market analysis | USD Million for Value and Tons for Volume, and CAGR from 2022 to 2032 |
| Key regions covered | North America, Latin America, Europe, Asia-Pacific, Middle East, and Africa |
| Key countries covered | US, Canada, Brazil, Mexico, Germany, Italy, France, UK, Spain, Netherlands, Norway, Russia, China, Japan, South Korea, India, Indonesia, Thailand, Vietnam, Australia & New Zealand, Saudi Arabia, Turkey, UAE, South Africa, Nigeria, Egypt |
| Key segments covered | By Material Type, Application, Packaging Format, and Region |
| Customization scope | Available upon Request |
| Pricing and purchase options | Available upon Request |
Report Includes

Market Size Data

Global market size data, historical (2018 to 2022) and forecast (2023 to 2033), by each segment and region
Regional level market size data, historical (2018 to 2022) and forecast (2023 to 2033), by each segment and country
Country level market share data, historical (2018 to 2022) and forecast (2023 to 2033), by each segment
Market attractiveness analysis based on market share index and CAGR index for each of the segments and regions
Incremental dollar opportunity generated in the forecast period would be indicated
Key Takeaways, Recommendations, and key investment pockets for the relevant segments would be highlighted

Market Background

Macroeconomic factors that impact the market developments
Market dynamics (Drivers, Restraints, Opportunities) that positively or negatively influence market growth
Supply Side and Demand Side trends – trends witnessed from buyers and suppliers side
Production and Consumption Gap Analysis – analysis of gap between production and consumption in any geography to fulfil unmet demand
Trade analysis and analysis of key supply and demand hubs
Identification of hotbed opportunities existing in the market
Porter's and PEST analysis to understand the business environment of the geography
Regulatory scenario – Identification of key sector specific and trade regulations, and assessment of whether it helps or hinder market development & growth

Pricing Analysis

Regional-level product pricing analysis to set and benchmark your current or future product offerings across each product type
Historical and projected pricing trends of the product which helps in determining the product's price and/or services beneficial for companies product lifecycle
Cost teardown analysis and key factors impacting pricing

Value Chain Analysis

Country-wise list of raw material suppliers

Raw material price trends and buyers' sentiment
Overview of Intelligent Sourcing Technique
Raw material procurement requirements
Vendor selection criteria

Country-wise list of product manufacturers
Country-wise list of distributors/traders
Country-wise list of end-users

End-Users/Customers consumption mapping
Key End-Users/Customers client list

Country-wise list of other key channel partners
Average profitability margins
Regional value chain dynamics

Competition Analysis

Market shares and production capacities of key players
Tier structure analysis of market
Comprehensive competition dashboard representing the top 10-15 players in the market
Individual company profiles of top 15 to 20 manufacturers

Business Overview
Product Portfolio
Key Financials
Recent Developments
SWOT Analysis
Strategies
Country Coverage
North America: U.S., Canada
Latin America: Brazil, Mexico, Argentina, Central America, Rest of Latin America
Western Europe: Germany, Italy, France, UK, Spain, Poland, Romania, Rest of Western Europe
Eastern Europe: Russia & Belarus, Balkan Countries, Baltic Countries, Central Asia, Rest of Eastern Europe
Middle East & Africa: KSA, UAE, Turkey, Israel, Northern Africa, South Africa, Rest of Middle East & Africa
East Asia: China, Japan, South Korea
South Asia & Pacific: India, ASEAN, Australia & New Zealand, Rest of South Asia & Pacific
Why Choose CVC Market Research?;
Specialized market research company
Impeccable and deep industry expertise
Wide range of offerings
Robust research methodology and statistical models with least deviation
Extensive reports and full-service consulting
Expert panel sanctioned industry outlook
Growth dynamics for calculated investments
Tri-level quality guarantee
6 months unlimited post-sales support
Regular planned and contracted report updates
Frequently Asked Questions
In the forecast period between 2022 and 2032, the market is expected to grow at a CAGR of 5.9%.
There are numerous prospects for international floor POP display producers to access potentially lucrative areas due to in-store retail shopping across potential economies.
Major global Floor Displays Market players are Sonoco Products Company, DS Smith Plc, Smurfit Kappa Group PLC, Georgia-Pacific LLC, WestRock Company, FFR Merchandising Company, U.S. Corrugated Inc., Marketing Alliance Group, Creative Displays Now, Pratt Industries Inc.
The growth of e-commerce platforms has been one of the major factors that have led to the decline in the in-store POP display. The increasing popularity of online shopping has limited the revenue potential of these stores.
The North American region is expected to account for the largest market revenue share in the Global Floor Displays market.