Flexitank Market Size Analysis
According to a recent survey conducted by ChemView Consulting, the Global Flexitank Market grew at a CAGR of 10.8% between 2017-2021 and is estimated to be US$ 512.7 Mn in 2022. Currently, the market is anticipated to grow at a CAGR of 12.9% and is expected to reach a valuation of US 1,725.1 Mn by 2032 end.
Throughout the projected period, the market is anticipated to grow in response to rising demand for various liquid worldwide trade and flexitanks' competitive advantages over more conventional alternatives such as ISO containers, drums, barrels, and IBCs.
Market Dynamic
ECONOMICAL AS COMPARED TO CONVENTIONAL TRANSPORTATION CONTAINERS
Flexitanks are designed for efficient, flexible, and economical handling and transporting of liquid goods. Flexitanks have a large interior volume, allowing them to carry larger amounts of liquids than standard ISO containers while remaining lightweight and versatile. This makes them perfectly suited for transporting bulk fluids such as milk, sauces, and chemicals. With flexitanks, fluids safely transport up to four times more products than in other ISO containers on your daily route.
Flexitanks are more economical compared to traditional transportation containers. This is because flexitanks allow for the transporting of bulk cargo as well as small items at the same time. In addition, flexitanks can be stacked together to make a bigger storage unit rather than individual containers. Finally, flexitanks require less labor since no people are needed during the loading and unloading of the tankers.
FLUCTUATING MARKET PRICES HAMPER THE MARKET GROWTH
The impact of COVID-19 pandemic has considerably impacted plastic production. Since the early stage of 2020, North America has been the victim of a severe supply shortage of polyolefins, especially PTFE and PPS. Due to chemical plants being shut down during the early weeks, prices of PVC and PE have skyrocketed. As PVC, PP, and PE use flexitanks, challenges to the flexitank market can be expected.
THE RISE IN THE WINE TRADE WILL CREATE MORE OPPORTUNITIES FOR THE MARKET
Globalization and expanding economies have boosted the international wine trade, producing a demand for the product never before experienced. As shipping containerization has increased and cost has decreased, these containers have become widely used worldwide. Their construction is versatile, lightweight, and environmentally friendly, so that they can be shipped easily in all weather conditions. This flexibility means they can be transported in planes, trains, and automobiles, unlike traditional wine racks or bulk cases.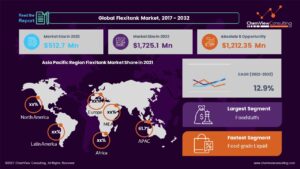 Market Segments Covered in Report
By Type:
Monolayer Flexitanks
Multilayer Flexitanks
By Loading Type:
Top Loading Flexitanks
Bottom Loading Flexitanks
By Application:
Food-Grade Liquids
Alcoholic Beverages
Edible Oils
Juices, Concentrates & Syrups
Others
Non-Hazardous Liquid/ Chemicals
Pharmaceutical Liquids
By Region and Country:
North America (U.S., Canada)
Latin America (Brazil, Mexico, Rest of Latin America)
Europe (Germany, Italy, France, UK, Spain, Netherlands, Norway, Russia, Rest of Europe)
Asia-Pacific (China, Japan, South Korea, India, Indonesia, Thailand, Vietnam, Australia & New Zealand, Rest of Asia-Pacific)
Middle East (Saudi Arabia, Turkey, UAE, Rest of Middle East)
Africa (South Africa, Nigeria, Egypt, Rest of Africa)
Segment-Wise Analysis
Why are multi-layer segments projected to ensure the most revenue during the forecast period?
At 65.0% of the market, multi-layer Flexitank had the greatest revenue share. The main advantage of the multi-layer Flexitank is that each layer is very thin and flexible, making it very easy when unloading is done to roll the empty Flexitank to avoid wasting any liquid. The multiple layers also safeguard the cargo from contamination. Oxygen and moisture barriers are vital for transporting food-grade liquids, so that flexitanks will dominate the market in future years.
Why is the food segment expected to expand the fastest during the forecast period?
In 2021, the food segment application market will rule. The primary driver of the expansion of Flexitanks is ideal for the safe storage and transporting of food-grade liquids, such as juices, wines, milk, syrups, edible oils, etc. Flexitanks offer a more cost-effective and reliable alternative for transporting food liquids via sea, rail, and land.
The Flexitank consists of several layers, each containing pumps and valves that play a vital role in sealing off air and water, making them both airproof and waterproof. This makes sure that the product inside the flexitanks remains intact and uncontaminated. This property makes flexitanks completely safe and secure for transportation.
Region-Wise Analysis
The regions analyzed for the market include North America, Europe, Latin America, Asia Pacific, Middle East, and Africa.
In 2021, the Asia Pacific market held a sizeable revenue share of 61.7%.owing to the region's food processing industry and agriculture. The Asia Pacific will dominate the global market, accounting for most worldwide production. Governments in developing nations are concentrating on expanding export markets, providing a substantial opportunity to develop the region's market.
The market in North America will expand due to the region's substantial exports to eastern nations. Furthermore, transport via rail-based containers has grown dramatically in North America, resulting in a significant increase in product demand
Competition Analysis
Major corporations are utilizing organic and inorganic development tactics to strengthen their position in the market by diversifying the products they provide. These actions have enabled market participants to increase their clientele and revenue. With the increasing demand for chlorinated solvents in the worldwide industry, market players in the Flexitank Market market can anticipate attractive growth prospects in the future.
Some of the key developments that have taken place in the Flexitank Market include:
In July 2020, Static storage tanks were introduced by SIA Flexitanks. These are suitable for the short-term storage of non-hazardous liquids like water. The best static storage tanks for emergency firefighting are those.
In October 2020, Braid, a significant figure in the logistics of bulk liquids, was purchased by Hillebrand. Hillebrand can better manage non-hazardous liquids in bulk, including wine, olive oil, non-hazardous chemicals, juices, and food oils, by acquiring this company.
A list of some of the key suppliers present in the market are:
SIA Flexitanks
Trust Flexitanks
Bulk Liquid Solutions
Environmental Packaging Technologies
Hillebrand
Braid Logistics
Flexitank Group
BeFlexi
Rishi FIBC
Trans Ocean Bulk Logistics
Report Coverage and Highlights
Our comprehensive, data-backed, and facts-oriented report provides niche and cross-sectional analysis at global and country levels.
Assessment of the historical (actual data) and current market size (2017-2021), market projections (2022-2032), and CAGR.
The market assessment across North America, Europe, East Asia, South Asia & Pacific, Latin America, Middle East, and Africa.
Competitive tactical intelligence, key strategies adopted by top players, production capacity and company shares analysis, product brand surveys, and export-import analysis
Pricing analysis to set and benchmark your current or future offerings across each product type helps you understand whether your pricing strategy is aligned with market expectations and can be compared to market disruptions.
Predictions on critical supply and demand trends and technological expertise needed to address operations scalability.
Consumer behavior shifts and their implications for players, list of end-users, and their consumption analysis.
Key drivers, restraints, opportunities, and emerging trends impacting the market growth.
Value chain analysis (list of manufacturers, distributors, end-users, and average profitability margins).
Strategic market analysis, recommendations, and future headways on crucial winning strategies.
| | |
| --- | --- |
| Research Scope | Details |
| Forecast period | 2022-2032 |
| Historical data available for | 2017-2021 |
| Market analysis | USD Million for Value and Tons for Volume, and CAGR from 2022 to 2032 |
| Key regions covered | North America, Latin America, Europe, Asia-Pacific, Middle East, and Africa |
| Key countries covered | US, Canada, Brazil, Mexico, Germany, Italy, France, UK, Spain, Netherlands, Norway, Russia, China, Japan, South Korea, India, Indonesia, Thailand, Vietnam, Australia & New Zealand, Saudi Arabia, Turkey, UAE, South Africa, Nigeria, Egypt |
| Key segments covered | By Type, Loading Type, Application, and Region |
| Customization scope | Available upon Request |
| Pricing and purchase options | Available upon Request |
Report Includes

Market Size Data

Global market size data, historical (2018 to 2022) and forecast (2023 to 2033), by each segment and region
Regional level market size data, historical (2018 to 2022) and forecast (2023 to 2033), by each segment and country
Country level market share data, historical (2018 to 2022) and forecast (2023 to 2033), by each segment
Market attractiveness analysis based on market share index and CAGR index for each of the segments and regions
Incremental dollar opportunity generated in the forecast period would be indicated
Key Takeaways, Recommendations, and key investment pockets for the relevant segments would be highlighted

Market Background

Macroeconomic factors that impact the market developments
Market dynamics (Drivers, Restraints, Opportunities) that positively or negatively influence market growth
Supply Side and Demand Side trends – trends witnessed from buyers and suppliers side
Production and Consumption Gap Analysis – analysis of gap between production and consumption in any geography to fulfil unmet demand
Trade analysis and analysis of key supply and demand hubs
Identification of hotbed opportunities existing in the market
Porter's and PEST analysis to understand the business environment of the geography
Regulatory scenario – Identification of key sector specific and trade regulations, and assessment of whether it helps or hinder market development & growth

Pricing Analysis

Regional-level product pricing analysis to set and benchmark your current or future product offerings across each product type
Historical and projected pricing trends of the product which helps in determining the product's price and/or services beneficial for companies product lifecycle
Cost teardown analysis and key factors impacting pricing

Value Chain Analysis

Country-wise list of raw material suppliers

Raw material price trends and buyers' sentiment
Overview of Intelligent Sourcing Technique
Raw material procurement requirements
Vendor selection criteria

Country-wise list of product manufacturers
Country-wise list of distributors/traders
Country-wise list of end-users

End-Users/Customers consumption mapping
Key End-Users/Customers client list

Country-wise list of other key channel partners
Average profitability margins
Regional value chain dynamics

Competition Analysis

Market shares and production capacities of key players
Tier structure analysis of market
Comprehensive competition dashboard representing the top 10-15 players in the market
Individual company profiles of top 15 to 20 manufacturers

Business Overview
Product Portfolio
Key Financials
Recent Developments
SWOT Analysis
Strategies
Country Coverage
North America: U.S., Canada
Latin America: Brazil, Mexico, Argentina, Central America, Rest of Latin America
Western Europe: Germany, Italy, France, UK, Spain, Poland, Romania, Rest of Western Europe
Eastern Europe: Russia & Belarus, Balkan Countries, Baltic Countries, Central Asia, Rest of Eastern Europe
Middle East & Africa: KSA, UAE, Turkey, Israel, Northern Africa, South Africa, Rest of Middle East & Africa
East Asia: China, Japan, South Korea
South Asia & Pacific: India, ASEAN, Australia & New Zealand, Rest of South Asia & Pacific
Why Choose CVC Market Research?;
Specialized market research company
Impeccable and deep industry expertise
Wide range of offerings
Robust research methodology and statistical models with least deviation
Extensive reports and full-service consulting
Expert panel sanctioned industry outlook
Growth dynamics for calculated investments
Tri-level quality guarantee
6 months unlimited post-sales support
Regular planned and contracted report updates
Frequently Asked Questions
In the forecast period between 2022 and 2032, the market is expected to grow at a CAGR of 12.9%.
The growth of the global wine trade is driving the Flexitanks market. Flexitank's competitive advantages over alternative products are anticipated to boost global market growth throughout the forecast period.
Major global Flexitank Market players are SIA Flexitanks, Trust Flexitanks, Bulk Liquid Solutions, Environmental Packaging Technologies, Hillebrand, Braid Logistics, Flexitank Group, BeFlexi, Rishi FIBC, Trans Ocean Bulk Logistics.
The fluctuating raw material pricing for Flexitank has constrained market growth.
The Asia Pacific region is expected to account for the largest market revenue share in the Global Flexitank market.