Cocoa Market Size Analysis
According to a recent survey conducted by ChemView Consulting, the Global Cocoa Market grew at a CAGR of 4.6% between 2017-2021 and is estimated to be US$ 14973.1 Mn in 2022. Currently, the market is anticipated to grow at a CAGR of 4.4% and is expected to reach a valuation of US$ 23,031.2 Mn by 2032 end.
Because it is becoming a more important component of chocolate, there has been a significant rise in the demand for cocoa. Every year, chocolate-making requires about 4.6 million tonnes of cocoa. Cocoa is heavily utilized in creating confectionery goods, cocoa mass, cocoa powder, cocoa liquor, and chocolate. Dutch-flavored cocoa is predicted to have more sales potential than natural cocoa.
Market Dynamic
VARIED BENEFITS OF COCOA SERVING AS MARKET DRIVING FORCE
Numerous advantages of cocoa are anticipated to act as a catalyst for an increase in the number of improvements occurring in the market. The growing usage of cocoa in various businesses, including baking, pharmaceuticals, sweets, and other areas, is associated with its health advantages. Additionally, there are several opportunities on the market for applications in cosmetics and personal care goods.
People are becoming more aware of the advantages of eating dark chocolate, which is expected to boost its prospects. The demand for cocoa is projected to rise due to these factors. Due to their distinctive flavors, a variety of new chocolate varieties are becoming more and more popular with customers.
REQUIREMENT FOR ADDITIONAL INVESTMENTS TO MAINTAIN SUSTAINABLE GROWTH
Due to their widespread use in most food and beverage goods, cocoa components and flavours are becoming increasingly popular. However, a vital requirement is to keep the global industry growing sustainably. To meet these sector demands, it becomes imperative to make extra expenditures.
The cocoa producers are spending more money to get the certification of permission to sell their cocoa goods on the international market and widen their market reach. Therefore, these producers' higher investments ultimately lead to an increase in the price of their respective products, restricting consumer uptake.
DEMAND FOR SPECIALTY CHOCOLATE PRODUCTS LEADING TO INNOVATION & DEVELOPMENT
In recent years, there has been an increase in demand for specialty or luxury chocolates, particularly from developed markets like Germany, the United States, Belgium, and France.
A notable factor is consumers' growing desire to understand the provenance of the ingredients used in chocolates. This happens for several reasons, including lactose and vegan preferences and allergies to certain elements. Additionally, it is anticipated that the increasing demand for goods derived from specialty beans will boost the cocoa market.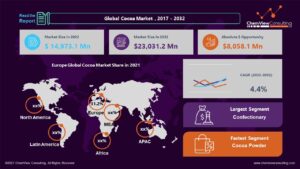 Market Segments Covered in Report
By Nature:
By Process:
By End-Use:
Confectionery
Functional Food
Beverages
Cosmetics
Pharmaceuticals
By Product Type:
Cocoa powder
Cocoa butter
Cocoa liquor
By Region and Country:
North America (U.S., Canada)
Latin America (Brazil, Mexico, Rest of Latin America)
Europe (Germany, Italy, France, UK, Spain, Netherlands, Norway, Russia, Rest of Europe)
Asia-Pacific (China, Japan, South Korea, India, Indonesia, Thailand, Vietnam, Australia & New Zealand, Rest of Asia-Pacific)
Middle East (Saudi Arabia, Turkey, UAE, Rest of Middle East)
Africa (South Africa, Nigeria, Egypt, Rest of Africa)
Segment-Wise Analysis
Which type of cocoa accounts for high revenue generation?
Cocoa powder is growing in popularity worldwide due to the increased demand for chocolate products in the bakery and confectionery industries. In addition to the hot chocolate mix and chocolate milk, cocoa powder is a common ingredient in many foods and beverages. They are increasingly used by various eateries, including brand-new businesses, large restaurants, and even home bakers.
Due to its numerous health advantages, cocoa powder intake is on the rise. Additionally, cocoa powder contains some antioxidants, and studies have shown that it is good for the heart and brain.
Why is organic cocoa gaining huge traction in the market?
Consumers have grown more proactive and health-conscious in purchasing various food goods in recent years due to a visible rise in healthcare incidents brought on by unhealthy lifestyles. As a result, there is an increasing demand for organic and low-fat cocoa powder.
To avoid consuming food products that contain dangerous chemicals, consumers today search for organic products. The demand for gluten-free goods is rising noticeably due to increased incidences of gluten sensitivity worldwide. Consumers are looking for safe and safe products, including health-conscious and sensitive consumers.
Which end-use segment is increasing in demand?
Since the confectionery business uses a significant portion of the world's cocoa crop to produce chocolate and other chocolate-related goods, it is the market segment with the largest share of the global cocoa market.
Region-Wise Analysis
The regions analyzed for the market include North America, Europe, Latin America, Asia Pacific, Middle East, and Africa.
With a market share of 31.2% among other regional markets, the European market dominated the global market. In 2021, the regional market had a value of $20 billion. Since several important chocolate makers have their headquarters in Switzerland, Germany, the Netherlands, and Belgium, Europe is regarded as the center of the world's chocolate industry.
According to estimates, the North American market will expand very quickly to satisfy domestic demand from the candy manufacturing industry. Industrial chocolates that include more cocoa extract are becoming a preferred and well-liked treat.
Competition Analysis
Both established and up-and-coming market competitors are using different business tactics to succeed in the fierce rivalry. Some of the important methods used by these competitors to obtain a competitive edge in the world cocoa market include acquisition, collaboration, novel product releases, portfolio expansion, agreements, partnerships, and others.
The key development in the Global Cocoa Market:
In March 2022, the expansion of Barry Callebaut's factories in Australia, Melbourne, and Campbell Field was announced. The company's endeavor will likely increase its geographic reach in the Asia Pacific region while producing high-quality and secure products. Additionally, the facility is anticipated to serve the whole Australian chocolate industry, including professional and artisanal consumers and local and international manufacturers.
In January 2022, Fuji Oil Co., Ltd.'s subsidiary is Blommer Chocolate Company. The launch of an R&D application lab in Chicago's downtown was announced. The newly created space signifies the extension of the company's R&D capabilities with better and new ways to assist the business.
A list of some of the key suppliers present in the market are:
Barry Callebaut
Cocoa Processing Company
Nestle
ADM
Puratos Group
Cemoi
Mars, Inc.
Bloomer Chocolate
Cargill, Inc.
Meji Holdings
Carlyle Cocoa
Jindal Cocoa
United Cocoa Processor, Inc.
Report Coverage and Highlights
Our comprehensive, data-backed, and facts-oriented report provides niche and cross-sectional analysis at global and country levels.
Assessment of the historical (actual data) and current market size (2017-2021), market projections (2022-2032), and CAGR.
The market assessment across North America, Europe, East Asia, South Asia & Pacific, Latin America, Middle East, and Africa.
Competitive tactical intelligence, key strategies adopted by top players, production capacity and company shares analysis, product brand surveys, and export-import analysis
Pricing analysis to set and benchmark your current or future offerings across each product type helps you understand whether your pricing strategy is aligned with market expectations and can be compared to market disruptions.
Predictions on critical supply and demand trends and technological expertise needed to address operations scalability.
Consumer behavior shifts and their implications for players, list of end-users, and their consumption analysis.
Key drivers, restraints, opportunities, and emerging trends impacting the market growth.
Value chain analysis (list of manufacturers, distributors, end-users, and average profitability margins).
Strategic market analysis, recommendations, and future headways on crucial winning strategies.
| | |
| --- | --- |
| Research Scope | Details |
| Forecast period | 2022-2032 |
| Historical data available for | 2017-2021 |
| Market analysis | USD Million for Value and Tons for Volume, and CAGR from 2022 to 2032 |
| Key regions covered | North America, Latin America, Europe, Asia-Pacific, Middle East, and Africa |
| Key countries covered | US, Canada, Brazil, Mexico, Germany, Italy, France, UK, Spain, Netherlands, Norway, Russia, China, Japan, South Korea, India, Indonesia, Thailand, Vietnam, Australia & New Zealand, Saudi Arabia, Turkey, UAE, South Africa, Nigeria, Egypt |
| Key segments covered | By Nature, Process, End-Use, Product Type, and Region |
| Customization scope | Available upon Request |
| Pricing and purchase options | Available upon Request |
Report Includes

Market Size Data

Global market size data, historical (2018 to 2022) and forecast (2023 to 2033), by each segment and region
Regional level market size data, historical (2018 to 2022) and forecast (2023 to 2033), by each segment and country
Country level market share data, historical (2018 to 2022) and forecast (2023 to 2033), by each segment
Market attractiveness analysis based on market share index and CAGR index for each of the segments and regions
Incremental dollar opportunity generated in the forecast period would be indicated
Key Takeaways, Recommendations, and key investment pockets for the relevant segments would be highlighted

Market Background

Macroeconomic factors that impact the market developments
Market dynamics (Drivers, Restraints, Opportunities) that positively or negatively influence market growth
Supply Side and Demand Side trends – trends witnessed from buyers and suppliers side
Production and Consumption Gap Analysis – analysis of gap between production and consumption in any geography to fulfil unmet demand
Trade analysis and analysis of key supply and demand hubs
Identification of hotbed opportunities existing in the market
Porter's and PEST analysis to understand the business environment of the geography
Regulatory scenario – Identification of key sector specific and trade regulations, and assessment of whether it helps or hinder market development & growth

Pricing Analysis

Regional-level product pricing analysis to set and benchmark your current or future product offerings across each product type
Historical and projected pricing trends of the product which helps in determining the product's price and/or services beneficial for companies product lifecycle
Cost teardown analysis and key factors impacting pricing

Value Chain Analysis

Country-wise list of raw material suppliers

Raw material price trends and buyers' sentiment
Overview of Intelligent Sourcing Technique
Raw material procurement requirements
Vendor selection criteria

Country-wise list of product manufacturers
Country-wise list of distributors/traders
Country-wise list of end-users

End-Users/Customers consumption mapping
Key End-Users/Customers client list

Country-wise list of other key channel partners
Average profitability margins
Regional value chain dynamics

Competition Analysis

Market shares and production capacities of key players
Tier structure analysis of market
Comprehensive competition dashboard representing the top 10-15 players in the market
Individual company profiles of top 15 to 20 manufacturers

Business Overview
Product Portfolio
Key Financials
Recent Developments
SWOT Analysis
Strategies
Country Coverage
North America: U.S., Canada
Latin America: Brazil, Mexico, Argentina, Central America, Rest of Latin America
Western Europe: Germany, Italy, France, UK, Spain, Poland, Romania, Rest of Western Europe
Eastern Europe: Russia & Belarus, Balkan Countries, Baltic Countries, Central Asia, Rest of Eastern Europe
Middle East & Africa: KSA, UAE, Turkey, Israel, Northern Africa, South Africa, Rest of Middle East & Africa
East Asia: China, Japan, South Korea
South Asia & Pacific: India, ASEAN, Australia & New Zealand, Rest of South Asia & Pacific
Why Choose CVC Market Research?;
Specialized market research company
Impeccable and deep industry expertise
Wide range of offerings
Robust research methodology and statistical models with least deviation
Extensive reports and full-service consulting
Expert panel sanctioned industry outlook
Growth dynamics for calculated investments
Tri-level quality guarantee
6 months unlimited post-sales support
Regular planned and contracted report updates
Frequently Asked Questions
In the forecast period between 2022 and 2032, the market is expected to grow at a CAGR of 4.4%.
Varied benefits of cocoa serving as the market driving force.
Major global Cocoa Market players are Barry Callebaut, Cocoa Processing Company, Nestle, ADM, Puratos Group, Cemoi, Mars, Inc., Bloomer Chocolate, Cargill, Inc., Meji Holdings, Carlyle Cocoa, Jindal Cocoa, United Cocoa Processor, Inc
Requirement for additional investments to maintain sustainable growth
Europe is expected to account for the largest market revenue share in the Global Cocoa market.