Ceramic Coatings Market Size Analysis
According to a research analysis conducted by ChemView Consulting, in 2022, the worldwide ceramic coatings market was worth US$ 9.4 Bn, and it is expected to grow at a CAGR of 7.4% over the forecast period. The market is expected to hit US$ 16.6 Bn by 2030 end.
The market is expanding owing to the growing demand for the installation of solar photovoltaic systems in residences, commercial buildings, and industrial plants. Ceramic coatings are widely used in the healthcare industry for easier cleaning and reprocessing due to their hydrophobic properties, longer product life, higher hardness, corrosion resistance, and other benefits. As a result, the growing healthcare industry is fueling the growth of the ceramic coatings market, which is expected to fuel demand in the global Ceramic Coatings market in the coming years.
Market Dynamics
Increasing Demand for Ceramic Coatings in the Aerospace and Defense and automotive Industries to Drive Market Growth
The aviation sector is primarily concerned with the manufacture, sale, and operation of commercial aircraft. In contrast, defense is concerned with the nation's need for military weapons and systems designed for land, sea, and air operations. Due to production-related issues with some aircraft models, the commercial aerospace industry saw fewer deliveries in 2019. 2020 will likely be a year of major milestones for the global commercial space industry as the sector invests in new and established space technologies. Although the United States primarily drives the aerospace and defense industry, a few other countries, including China, France, India, Japan, the Middle East, Africa, and the United Kingdom, have contributed to the industry's success.
The increasing sales of automobiles are driving up demand for ceramic coatings, primarily used for surface protection and aesthetic purposes. The coating forms a chemical bond with the vehicle's factory paint, resulting in a protective, shiny layer. There are numerous ceramic coating products on the market. The main distinction between the materials is the amount of silicon dioxide (Si0) content. Some have levels as low as 5%, while others have levels as high as 70%. In general, the higher the silicon dioxide, the longer the product will last.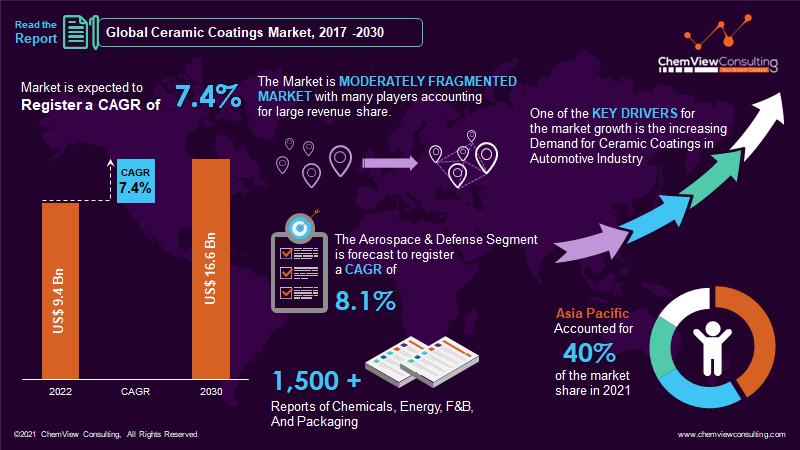 Segment-Wise Analysis
Why does thermal spray hold the highest market share in the ceramic coatings market?
Thermal Spray is estimated to dominate the global ceramic coatings market in 2021 because it extends the life of machine parts during coating. It is a versatile process that can employ a wide range of materials, beginning with pure carbides and progressing to ceramics, transition metal oxides, and other composite materials. The thermal sprayed process can be used on the surface without overheating the substrate. On the other hand, the chemical vapor deposition of yttria-stabilized zirconia as a thermal barrier coating is ideal for gas turbine and aircraft engines. As a result, the thermal spray technology is widely used in ceramic coatings.
Which application type is creating the highest demand for ceramic coatings?
Aerospace and defence held the largest share of the ceramic coatings market, which is expected to grow at an 8.1% CAGR between 2022 and 2030. Ceramic coatings are used to protect the interior and exterior of vessels. It is also commonly used in aircraft to provide UV protection and corrosion resistance. As a result, rising aircraft production is a major factor influencing demand for ceramic coatings.
According to the Federal Aviation Administration (FAA), the number of jet aircraft in the United States is expected to increase by 28% by 2038, while the cargo jet aircraft fleet is expected to increase by 37% by 2038. The aerospace and defence industry in the United States contributed more than USD 374 billion to the nation's GDP in 2018, accounting for 1.8 percent of total GDP, according to the Aerospace Industries Association (AIA). As a result, the expansion of all such activities is expected to increase demand for ceramic coatings.
Why does Asia-Pacific account for the largest market share in the ceramic coatings market?
The Asia-Pacific region controlled the majority of the global market with more than 40% share in 2021. China is still the world's largest vehicle market. The automotive industry in India is growing by double digits and is expected to fuel the market. The Asia-Pacific region is also on track to surpass Europe as the largest contributor to global solar photovoltaic installed capacity. The expanding solar photovoltaic industry in Asia-Pacific is helping to drive market growth.
The growing automotive and aerospace industries in Europe and North America are expected to fuel the demand. Vehicle sales increased globally throughout 2018, owing to positive economic growth in the United States, improved indicators in Europe, and the continued expansion of China's economy. These factors are stimulating the global automotive industry, which is driving the market.
Competition Analysis
To remain competitive in the industry, key market players are investing in expanding their market footprint. Several vital players invest a fair share of their revenue in research and development to boost their product portfolio. Market participants focus on technological development and utilizing a product in several applications.
Some of the key developments that have taken place in the ceramic coatings market include:
In April 2021, Tata Motors introduced one of the industry's first Ceramic Coating service offerings with the all-new Safari. This is a cutting-edge hydrophilic formulation technique for revitalising the look of Tata vehicles. UVs will be serviced for a fee of 28,500 at all Tata Motors authorised dealerships (including GST).
In March 2021, IGL Coatings has officially launched its flagship product, the graphene reinforced Ecocoat Kenzo. At the International Innovation Awards 2021, Kenzo, IGL's pioneering 10H certified, high solids ceramic coating, received the Gold Medal Award for Green Technology. By developing a high-solids, zero-VOC recipe, Ecocoat Kenzo transformed the ceramic coatings industry. It was distinguished by its distinct high solids recipe, which resulted in global demand for the buttery smooth and luminous ceramic coating.
A list of some of the key suppliers present in the market are:
Bodycote
Praxair S.T. Technology
, Kurt J. Lesker Company
APS Materials, Inc.
Aremco
Integrated Global Services, Inc.
Keronite
Morgan Advanced Materials
Ferro Corporation
Saint-Gobain
Du Pont De Nemours & Company
Nasiol Nano Coatings
Cetek Ceramic Technologies Ltd.
Ultramet
Market Segments Covered in Report
By Type:
Oxide
Carbide
Nitride
Others
By Coating Method:
Thermal Spray

Plasma Spray
Combustion Flame Spray

Physical Vapor Deposition (PVD)
Chemical Vapor Deposition (CVD)
Others
By End-Use:
Automotive

Passenger Cars
Light Weight Commercial Vehicles
Heavy Duty Commercial Vehicles

Aerospace & Defense

Commercial Aircraft
Military Aircraft
Space Vehicles
Others

Energy
Oil & Gas
Industrial Goods
Healthcare
Others
By Region and Country:
North America (U.S., Canada)
Latin America (Brazil, Mexico, Rest of Latin America)
Europe (Germany, Italy, France, UK, Spain, Netherlands, Norway, Russia, Rest of Europe)
Asia-Pacific (China, Japan, South Korea, India, Indonesia, Thailand, Vietnam, Australia & New Zealand, Rest of Asia-Pacific)
Middle East (Saudi Arabia, Turkey, UAE, Rest of Middle East)
Africa (South Africa, Nigeria, Egypt, Rest of Africa)
Global Ceramic Coatings Market 2022-2030: Report Coverage and Highlights
Assessment of the historical and current market size (2017-2021), market projections (2022-2030), and its contribution to the parent market
Key drivers, restraints, opportunities, and key emerging trends impacting market growth
Predictions on critical supply, demand, and technological trends and changes in consumer behavior
Value chain analysis (list of manufacturers, distributors, end-users, average profitability margins, etc.)
Segment-wise, country-wise, and region-wise market analysis
Competition mapping, market share analysis, key strategies adopted by top players, and competitive tactical intelligence
Key product innovations and regulatory framework
Covid-19 impact on the market and how to navigate
Strategic market analysis and recommendations on crucial winning strategies
| | |
| --- | --- |
| Research Scope | Details |
| Forecast period | 2022-2030 |
| Historical data available for | 2017-2021 |
| Market analysis | USD Million for Value and Tons for Volume, and CAGR from 2022 to 2030 |
| Key regions covered | North America, Latin America, Europe, Asia-Pacific, Middle East, and Africa |
| Key countries covered | US, Canada, Brazil, Mexico, Germany, Italy, France, UK, Spain, Netherlands, Norway, Russia, China, Japan, South Korea, India, Indonesia, Thailand, Vietnam, Australia & New Zealand, Saudi Arabia, Turkey, UAE, South Africa, Nigeria, Egypt |
| Key segments covered | Type, Coating Method, End-Use Industry, and Region |
| Customization scope | Available upon Request |
| Pricing and purchase options | Available upon Request |
About ChemView Consulting
ChemView Consulting is a leading information, market intelligence, and consulting company serving chemicals & materials, oil & gas, and alternative energy clients worldwide. ChemView Consulting serves clients in approximately 100 countries, with its office in the U.S. and delivery centers in India.
What sets ChemView Consulting apart?
Full-time research experts and subject matter experts
In-house primary research team
The in-house data visualization team
Industry-wide network of research partners
Database subscriptions
The exclusively tailored research process
Report Includes

Market Size Data

Global market size data, historical (2018 to 2022) and forecast (2023 to 2033), by each segment and region
Regional level market size data, historical (2018 to 2022) and forecast (2023 to 2033), by each segment and country
Country level market share data, historical (2018 to 2022) and forecast (2023 to 2033), by each segment
Market attractiveness analysis based on market share index and CAGR index for each of the segments and regions
Incremental dollar opportunity generated in the forecast period would be indicated
Key Takeaways, Recommendations, and key investment pockets for the relevant segments would be highlighted

Market Background

Macroeconomic factors that impact the market developments
Market dynamics (Drivers, Restraints, Opportunities) that positively or negatively influence market growth
Supply Side and Demand Side trends – trends witnessed from buyers and suppliers side
Production and Consumption Gap Analysis – analysis of gap between production and consumption in any geography to fulfil unmet demand
Trade analysis and analysis of key supply and demand hubs
Identification of hotbed opportunities existing in the market
Porter's and PEST analysis to understand the business environment of the geography
Regulatory scenario – Identification of key sector specific and trade regulations, and assessment of whether it helps or hinder market development & growth

Pricing Analysis

Regional-level product pricing analysis to set and benchmark your current or future product offerings across each product type
Historical and projected pricing trends of the product which helps in determining the product's price and/or services beneficial for companies product lifecycle
Cost teardown analysis and key factors impacting pricing

Value Chain Analysis

Country-wise list of raw material suppliers

Raw material price trends and buyers' sentiment
Overview of Intelligent Sourcing Technique
Raw material procurement requirements
Vendor selection criteria

Country-wise list of product manufacturers
Country-wise list of distributors/traders
Country-wise list of end-users

End-Users/Customers consumption mapping
Key End-Users/Customers client list

Country-wise list of other key channel partners
Average profitability margins
Regional value chain dynamics

Competition Analysis

Market shares and production capacities of key players
Tier structure analysis of market
Comprehensive competition dashboard representing the top 10-15 players in the market
Individual company profiles of top 15 to 20 manufacturers

Business Overview
Product Portfolio
Key Financials
Recent Developments
SWOT Analysis
Strategies
Country Coverage
North America: U.S., Canada
Latin America: Brazil, Mexico, Argentina, Central America, Rest of Latin America
Western Europe: Germany, Italy, France, UK, Spain, Poland, Romania, Rest of Western Europe
Eastern Europe: Russia & Belarus, Balkan Countries, Baltic Countries, Central Asia, Rest of Eastern Europe
Middle East & Africa: KSA, UAE, Turkey, Israel, Northern Africa, South Africa, Rest of Middle East & Africa
East Asia: China, Japan, South Korea
South Asia & Pacific: India, ASEAN, Australia & New Zealand, Rest of South Asia & Pacific
Why Choose CVC Market Research?;
Specialized market research company
Impeccable and deep industry expertise
Wide range of offerings
Robust research methodology and statistical models with least deviation
Extensive reports and full-service consulting
Expert panel sanctioned industry outlook
Growth dynamics for calculated investments
Tri-level quality guarantee
6 months unlimited post-sales support
Regular planned and contracted report updates
Frequently Asked Questions
The global ceramic coatings market size was estimated at USD 9.4 billion in 2022 and is expected to reach USD 16.6 billion in 2030 at a CAGR of 7.4%.
The Asia Pacific dominated the ceramic coatings market with a share of more than 40% in 2021. This is attributable to rising demand from the automotive sector and industrial components due to their abrasion and heat resistance properties.
Some key players operating in the ceramic coatings market include Bodycote, Praxair Surface Technologies, Inc., Aremco Products, Inc., APS Materials, Inc., Keronite Group Ltd., Morgan Advanced Materials, Ferro Corporation, and Saint-Gobain.
During the forecast period of 2022-32, the oxide type segment is expected to remain the leading segment.