Botanical Supplements Market Size Analysis
According to a recent survey conducted by ChemView Consulting, the Global Botanical Supplements Market grew at a CAGR of 7.1% between 2017-2021 and is estimated to be US$ 32471.8 Mn in 2022. Currently, the market is anticipated to grow at a CAGR of 7.8% and is expected to reach a valuation of US$ 68,816.7 Mn by 2032 end.
As producers continue to develop the manufacturing of botanicals with a wide spectrum of amino acids and particular target activities, such as weight loss and muscle regeneration, the market is anticipated to increase dramatically. Consumers are turning to health-imparting herbal supplements due to rising health consciousness, increased nutrition concerns, and more attention to preventative healthcare.
Several companies produce alternative treatments to help women who frequently experience issues, including menopausal hot flashes and insomnia. Fish oils, detox drinks, probiotic beverages, and other herbal supplements are on the growing list of herbal goods. The market for botanical supplements is anticipated to increase as consumers grow accustomed to accessories, as well as due to high-income levels and top-notch sports and fitness facilities.
Market Dynamic
RISING CONSUMER AWARENESS CONCERNING HEALTH, WELLNESS, AND NUTRITION TO BOLSTER MARKET GROWTH
Consumer awareness of dietary supplements and their advantages has expanded due to several awareness initiatives launched by the government and non-governmental groups. Additionally, in many nations, consuming high-quality foodstuffs with added nourishment represents one's social standing. Using organic and natural products by some manufacturers of dietary supplements contributes to the market's expansion. The employment of eye-catching packaging strategies has increased consumer awareness, which has, in turn, encouraged the purchase of botanical supplements.
Many consumers are becoming more health conscious and favor products with few synthetic ingredients. Another important element anticipated to drive the demand for the product is consumers' rising preference for healthy foods and their readiness to pay more for them (due to their superior nutritional value).
AVAILABILITY OF SUBSTITUTES AND COMPLEXITY RELATED TO ASSESSMENT OF ACTIVE INGREDIENTS TO LIMIT GROWTH
Botanical components are widely employed in various end-use industries for their functional and therapeutic properties, from food and beverage to supplements. Additionally, the fact that they come from a clean label source and have fewer adverse effects than synthetic substances helps their spread in end-use sectors. For instance, glucosamine molecules are widely used to produce nutritional supplements to treat joint discomfort, glaucoma, osteoarthritis, and weight reduction.
Botanical supplements are complex mixes with a high degree of heterogeneity in the active component composition and their effect on biological activity. The location, environment, timing, and stages of the plant material's harvest and the production procedure used by the ingredient producer are the key causes of this heterogeneity in the quality of botanical components.
SHIFT FROM PHARMACEUTICAL TO BOTANICAL PRODUCTS TO INCREASE MARKET VOLUME
The botanical industry is a growing and dynamic sector that presents new chances to combine scientific research with rising consumer interest in foods that promote health. The items created in this sector respond to direct consumer demand since it tracks and keeps an eye on consumer trends and ties with mass distributors.
It can prolong life, delay aging, prevent chronic diseases, improve health, and support the structure and operation of the body. The idea that "prevention is better than treatment" is shifting as consumers become more health- and wellness-conscious. Because of these circumstances, more people are turning to nutraceuticals and botanical supplements to maintain their health and avoid sickness.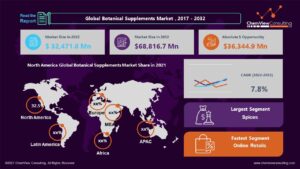 Market Segments Covered in Report
By Source:
Herbs
Leaves
Spices
Flowers
Others
By Distribution Channel:
By Application:
Energy & Weight Management
General Health
Bone & Joint Health
Gastrointestinal Health
Immunity
Cardiac Health
Diabetes
Anti-cancer
Others
By Form:
Powder
Liquid
Tablets
Capsules
Gummies
Others
By Region and Country:
North America (U.S., Canada)
Latin America (Brazil, Mexico, Rest of Latin America)
Europe (Germany, Italy, France, UK, Spain, Netherlands, Norway, Russia, Rest of Europe)
Asia-Pacific (China, Japan, South Korea, India, Indonesia, Thailand, Vietnam, Australia & New Zealand, Rest of Asia-Pacific)
Middle East (Saudi Arabia, Turkey, UAE, Rest of Middle East)
Africa (South Africa, Nigeria, Egypt, Rest of Africa)
Segment-Wise Analysis
Why are Spices estimated to account for the largest market share?
Due to changing lifestyles and a rise in the trend of trying new dishes, which has fueled the appeal of spices, the market's largest segment—spices—is anticipated to have significant expansion throughout the projected period. Utilizing this raw material, botanical compounds are extracted using a solvent. They are herbal and can be found in liquid, solid, and semi-solid phases.
To improve the quality of cosmetics, these substances drive up demand for their manufacturing. Additionally, the processed food and beverage business is using spices to increase the nutritional content of its goods.
Why are Tablets expected to expand the fastest during the forecast period?
Due to their affordability, tablets are the most widely utilized botanical supplements. Tablets have a longer shelf life than capsules and are the most compact form factor that manufacturers may use. Excipients are substances used in high-quality supplements that aid in pill absorption and disintegration.
The natural coating offers a better finish, but other elements control the absorption based on effectiveness and quality. In the upcoming years, it is anticipated that these reasons will increase demand for tablets containing natural health supplements.
Which application of botanical supplements is increasing in demand?
The energy and weight management category headed the market, which collected over 20.0% of global sales. This is brought on by the expanding popularity of online weight loss programs and government programs that support a healthy diet. In recent years, industrialized economies have seen an alarming rise in the prevalence of health issues like diabetes, cancer, and cardiovascular disorders.
Region-Wise Analysis
The regions analyzed for the market include North America, Europe, Latin America, Asia Pacific, Middle East, and Africa.
North America dominated the market with more than 32.5% of global revenue. The important aspect driving the industry expansion in the area is the rising awareness of dietary supplements infused with botanical ingredients and the increasing use of nutritional supplements.
The highest growth rate, 10.1%, is predicted for Asia Pacific. The rapid expansion of the regional market can be due to Asia's strong preference for herbal and botanical goods, particularly in China, Japan, and India.
Competition Analysis
There are numerous large and small businesses in the sector. The leading companies have largely relied on acquisitions, expansions, and the introduction new products to secure their continued success in the market. Effective distribution channels should also help businesses strengthen their market positions. Major corporations are also enhancing their presence by integrating their business operations throughout the value chain and putting these tactics into practice along with marketing initiatives like new product launches and personalized nutrition.
The key developments of the Global Botanical Supplements Market:
In January 2021, a line of high-quality herbal and botanical supplements was introduced by Prorganiq. This ground-breaking introduction of powerful and pure Prorganiq herbal supplements strongly emphasizes empowering individuals' overall health and assisting them in creating a better physique through all-natural means.
In March 2019, the American business BI Nutraceuticals, Inc., which produces and distributes plant-based products, was acquired by the Martin Bauer Group. The company strengthens its market position by enhancing its botanical compounds portfolio with this acquisition.
A list of some of the key suppliers present in the market are:
Dabur India
NBTY Inc.
Ricola AG.
Mondelez International
Procter and Gamble
Nutraceutical International Company
BASF SE
The Himalaya Drug Company
Glanbia Nutritionals
Botanicalife International of America, Inc.
Blackmores Limited
Report Coverage and Highlights
Our comprehensive, data-backed, and facts-oriented report provides niche and cross-sectional analysis at global and country levels.
Assessment of the historical (actual data) and current market size (2017-2021), market projections (2022-2032), and CAGR.
The market assessment across North America, Europe, East Asia, South Asia & Pacific, Latin America, Middle East, and Africa.
Competitive tactical intelligence, key strategies adopted by top players, production capacity and company shares analysis, product brand surveys, and export-import analysis
Pricing analysis to set and benchmark your current or future offerings across each product type helps you understand whether your pricing strategy is aligned with market expectations and can be compared to market disruptions.
Predictions on critical supply and demand trends and technological expertise needed to address operations scalability.
Consumer behavior shifts and their implications for players, list of end-users, and their consumption analysis.
Key drivers, restraints, opportunities, and emerging trends impacting the market growth.
Value chain analysis (list of manufacturers, distributors, end-users, and average profitability margins).
Strategic market analysis, recommendations, and future headways on crucial winning strategies.
| | |
| --- | --- |
| Research Scope | Details |
| Forecast period | 2022-2032 |
| Historical data available for | 2017-2021 |
| Market analysis | USD Million for Value and Tons for Volume, and CAGR from 2022 to 2032 |
| Key regions covered | North America, Latin America, Europe, Asia-Pacific, Middle East, and Africa |
| Key countries covered | US, Canada, Brazil, Mexico, Germany, Italy, France, UK, Spain, Netherlands, Norway, Russia, China, Japan, South Korea, India, Indonesia, Thailand, Vietnam, Australia & New Zealand, Saudi Arabia, Turkey, UAE, South Africa, Nigeria, Egypt |
| Key segments covered | By Source, Distribution Channel, Application, Form, Region,  and Region |
| Customization scope | Available upon Request |
| Pricing and purchase options | Available upon Request |
Report Includes

Market Size Data

Global market size data, historical (2018 to 2022) and forecast (2023 to 2033), by each segment and region
Regional level market size data, historical (2018 to 2022) and forecast (2023 to 2033), by each segment and country
Country level market share data, historical (2018 to 2022) and forecast (2023 to 2033), by each segment
Market attractiveness analysis based on market share index and CAGR index for each of the segments and regions
Incremental dollar opportunity generated in the forecast period would be indicated
Key Takeaways, Recommendations, and key investment pockets for the relevant segments would be highlighted

Market Background

Macroeconomic factors that impact the market developments
Market dynamics (Drivers, Restraints, Opportunities) that positively or negatively influence market growth
Supply Side and Demand Side trends – trends witnessed from buyers and suppliers side
Production and Consumption Gap Analysis – analysis of gap between production and consumption in any geography to fulfil unmet demand
Trade analysis and analysis of key supply and demand hubs
Identification of hotbed opportunities existing in the market
Porter's and PEST analysis to understand the business environment of the geography
Regulatory scenario – Identification of key sector specific and trade regulations, and assessment of whether it helps or hinder market development & growth

Pricing Analysis

Regional-level product pricing analysis to set and benchmark your current or future product offerings across each product type
Historical and projected pricing trends of the product which helps in determining the product's price and/or services beneficial for companies product lifecycle
Cost teardown analysis and key factors impacting pricing

Value Chain Analysis

Country-wise list of raw material suppliers

Raw material price trends and buyers' sentiment
Overview of Intelligent Sourcing Technique
Raw material procurement requirements
Vendor selection criteria

Country-wise list of product manufacturers
Country-wise list of distributors/traders
Country-wise list of end-users

End-Users/Customers consumption mapping
Key End-Users/Customers client list

Country-wise list of other key channel partners
Average profitability margins
Regional value chain dynamics

Competition Analysis

Market shares and production capacities of key players
Tier structure analysis of market
Comprehensive competition dashboard representing the top 10-15 players in the market
Individual company profiles of top 15 to 20 manufacturers

Business Overview
Product Portfolio
Key Financials
Recent Developments
SWOT Analysis
Strategies
Country Coverage
North America: U.S., Canada
Latin America: Brazil, Mexico, Argentina, Central America, Rest of Latin America
Western Europe: Germany, Italy, France, UK, Spain, Poland, Romania, Rest of Western Europe
Eastern Europe: Russia & Belarus, Balkan Countries, Baltic Countries, Central Asia, Rest of Eastern Europe
Middle East & Africa: KSA, UAE, Turkey, Israel, Northern Africa, South Africa, Rest of Middle East & Africa
East Asia: China, Japan, South Korea
South Asia & Pacific: India, ASEAN, Australia & New Zealand, Rest of South Asia & Pacific
Why Choose CVC Market Research?;
Specialized market research company
Impeccable and deep industry expertise
Wide range of offerings
Robust research methodology and statistical models with least deviation
Extensive reports and full-service consulting
Expert panel sanctioned industry outlook
Growth dynamics for calculated investments
Tri-level quality guarantee
6 months unlimited post-sales support
Regular planned and contracted report updates
Frequently Asked Questions
In the forecast period between 2022 and 2032, the market is expected to grow at a CAGR of 7.8%.
The rising popularity of functional beverages to augment market growth.
Major global Botanical Supplements Market players are Dabur India, NBTY Inc., Ricola AG., Mondelez International, Procter and Gamble, Nutraceutical International Company, BASF SE, The Himalaya Drug Company, Glanbia Nutritionals, Botanicalife International of America, Inc., Blackmores Limited
Availability of substitutes and complexity related to assessment of active ingredients to limit growth
North America is expected to account for the largest market revenue share in the Global Botanical Supplements market.